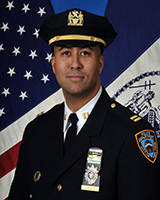 Captain Jesse J. Lance

Commanding Officer's Message

Police Service Area 4 is located at 130 Avenue C (corner of East 8th Street) New York, NY 10009. PSA 4 patrols twenty-five New York City Housing Authority (NYCHA) developments in the 5th, 7th, 9th and 10th Precincts in Manhattan. Residents of developments patrolled by PSA 4 number almost 40,000.

The goal of the men and women of PSA 4 is to reduce crime and improve the quality of life for residents of NYCHA developments patrolled by PSA 4. In order to achieve this goal, PSA 4 works in close coordination with the 5th, 7th, 9th, and 10th Precincts and NYCHA. In addition, PSA 4 works in partnership with the community. I would like to thank community leaders in PSA 4 for their unwavering support.

Thank you for visiting the PSA 4 website. I hope you find the information helpful. I would also like to invite you to our monthly Community Council meetings where all members of the public are welcome. Meetings take place at the PSA 4 station house on the third Monday of each month at 7:00 PM. (Meetings are not held during July and August). For information on the Community Council meetings or any other PSA 4 events, please phone the PSA 4 Community Affairs Office at 212-375-9371.