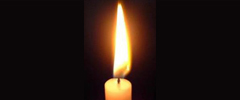 Are you suffering after the death of a loved one; parent, child, spouse, sibling, close friend or partner? For many, it is a difficult life altering experience. Finding ways to cope or bounce back to life as you once knew it, can be tough. However, your happiness and well-being are important.

Everyone expresses grief in their own way and in their own time. The days and weeks following the death/loss may be trying, depressing and quite lonely. To return some normalcy to your daily life can feel like an up hill battle. Daily routines like getting up out of bed, bathing, getting dressed, going to work and/or cleaning your home can be a struggle. Even getting sleep may be tough. Over time these feelings will worsen if you sit back and do nothing to help.

When going through the grieving process alone, it can seem long and never-ending. Choosing to talk about your feelings with those closest to you rather than holding it in can bring some relief. Some may even find it comforting to speak with a licensed therapist (social worker). Therapy meetings are private, confidential and scheduled weekly. If individual sessions are not appealing, then you might try participating in a bereavement support group. Talking about your feelings can be therapeutic and provide some much needed comfort or relief. Also, another option might be getting out with family and friends to unwind. Initially it may be a somewhat difficult step but it certainly has its benefits. Isolation and staying home away from others can do more harm than good.

Helping oneself to heal in a healthy way is paramount. Despite how difficult it may seem, take care of yourself. Your health is very important. Don't be afraid to reach out for assistance. It is a sign of strength. Eat, get rest and get help. If you are struggling and in need of assistance, contact the Early Intervention Unit and allow one of the peer counselors to assist you.