DOORS
Check your door and door frame.  Should they be repaired or replaced?  All exterior doors should be either metal or solid core wood (1 3/4" thick).  Glass or thin wood panels, in or near the door, can be protected by installing polycarbonate glazing secured with one-way screws.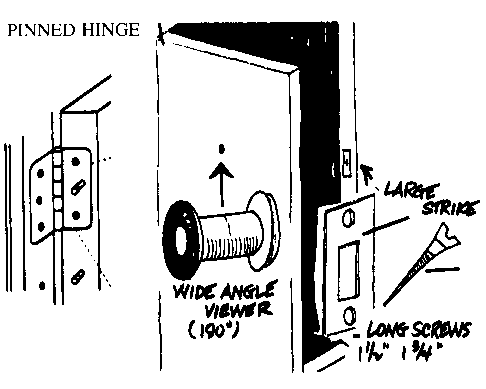 LOCKS
Use a dead bolt lock with a one-inch bolt throw or a heavy duty drop bolt lock.

Install a pick resistant cylinder.

Use a licensed locksmith.

Additional locks should be installed 12"-18" above or below the doorknob.  Consider children, the elderly, and/or the disabled before installing a lock too high.
          Do not use a double cylinder lock.  This is a lock that has a key on both sides (as illustrated below).  The installation of this lock in a multiple dwelling is prohibited according to the N.Y.C. Building Code, and it can be deadly if a fire should break out.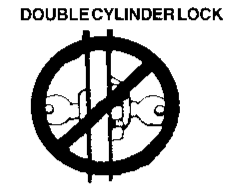 WINDOWS
          Security devices for windows vary, depending on the type of window and its location.  All accessible windows in an apartment need securing.  These include basements, first floor, top floor, and fire escape windows.  Additional security should be applied on those windows near a fire escape, such as bathroom or kitchen windows.
          Also, secure the windows of your apartment that are near a hallway or public access windows or areas. (Skylights should be examined for easy access and secured if necessary.)  Windows below the roof edge may be vulnerable to attack and should be secured with the pinning method.  They should not be left wide open but should be pinned and secured locked in the open position (not more than 5").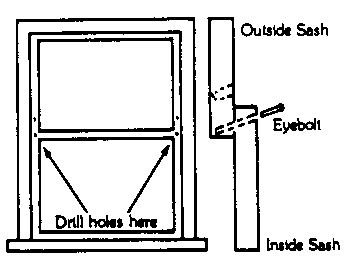 Pinning Double Hung Wooden Windows
To pin double hung wooden windows: at each top corner of the inside  sash, drill a hole through the inside sash and three quarters of the way through the outside sash at a slight downward angle.  Insert two 5/16 diameter eyebolts, one on each side of the window.  The bolts should fit loosely enough in their holes so that they are easy to insert and remove.
A separate set of holes can be drilled into the outside sash approxi­mately three to four inches above the inside sash so that the window can be left open for ventilation.  This prevents the window from being opened further than the three or four inches allowed.

CAUTION: THE PINNING TECHNIQUE MAY DAMAGE THERMAL PANESEALS, CONTACT THE MANUFACTURER.
ACCESSIBLE WINDOWS:  Any opening (window) within 18 feet of ground level, a building projection, or a fire escape. is considered to be an accessible opening (this includes windows near a public hall or route).  Therefore, secure accessible openings in the opened and closed position.
BASEMENT WINDOWS:  If you live or work in a basement apartment, the windows may be secured with safety gates, or grilles that also contain a safety latch which allows for emergency exit.  Do not assume that the basement windows are too small for entry.  They are, in fact, one of the most popular points of entry for a burglar.
  UNSAFE                       GATES                         SAFE
The best and safest way to secure your fire escape or any  first floor Window is with a New York Fire Department  approved gate. This gate is commonly known as the  "ferry" or safety gate and is operated by a latch and not a padlock or combination lock.
DO NOT ACCEPT SUBSTITUTES!
The protection afforded by this gate is only as good as the quality of its installation.  The screws used for installation of the safety gate should be long enough so that they anchor the gate to the interior wall stud, or the window frame.     
GENERAL RECOMMENDATIONS
EDGEGUARDS:  Interlocking edgeguards (anti jimmy bars) offer good protection, however, improperly installed jimmy bars can create a fulcrum or seesaw effect which lends itself to attack on the door.
DUMBWAITERS:  Although dumbwaiter doors may seem sealed with paint, the entire opening should  be reinforced with sheet metal, metal bars, or heavy duty slide bolts which are installed on the lock-and-hinge side of the door.
SHEETROCK WALLS:  Sheet rock (plasterboard) walls may be vulnerable to attack.  There are materials and/or devices such as heavy plywood paneling (minimum 1/2"), or alarm sensors, that may be attached directly on or near the wall to detect intrusions.
TERRACES: Although terraces may seem to be out of reach, they are vulnerable to burglary.  Secure all terrace doors and/or windows as you would other accessible openings to your residence using appropriate hardware.
AIR CONDITIONERS: If air conditioners are in accessible areas, such as walls or windows near the ground or fire escape, secure the unit to the sleeve to prevent it from being pushed in or pulled out.
CRAWL SPACE: Be aware that some older, attached houses, brownstones, or apartment build­ings may have a crawl space above the top floor ceiling and below the roof.  This space may con­nect apartments and should be secured in such a manner that meets fire regulations.
PERSONAL SAFETY
          Use the intercom.  Buzz people into your building ONLY when you are absolutely sure of the visitor's identity.  Answer to a prearranged signal from expected visitors if you do not have an intercom.  Discourage drop-in visitors and advise friends and relatives to call you first from a local
phone before visiting.
          Do not enter or remain with a stranger in an elevator if you feel unsafe.  If you live on the top floor, make certain that the roof door is closed.  By N.Y.C. Building Code regulation, a roof door may  not be locked temporarily or permanently.  It must always allow for emergency exit.
OPERATION IDENTIFICATION
          Ask your resident precinct Crime Prevention Officer about the FREE property marking program
offered by the New City Police Department.

Crime Prevention Section
34 1/2 East 12th Street
New York, N.Y.1000
212-614-6741