According to the RAND Corporation's "Analysis of Racial Disparities in the New York Police Department's Stop, Question, and Frisk Practices", the most widely used, but least reliable, benchmark is the residential census. Census benchmarks do not account for differential rates of crime participation by race or for differential exposure to the police. Comparisons to the residential census are simply not suitable for assessing racial bias.
 
However, RAND also indicated that crime-suspect descriptions provide a good measure of the rates of participation in certain types of crimes by race. Accordingly, that measure is better than the census population.
 
Additionally, the Reasonable Suspicion Stops Report illustrates other activity occurring within the given precinct which can further put the amount of stops conducted in perspective.
 
 2012 Department activity citywide:
4,107,144 Radio Runs

497,323 Total Crime Complaints

873,528 Arrests and Criminal Court Summons Issued

532,911 Reasonable Suspicion Stops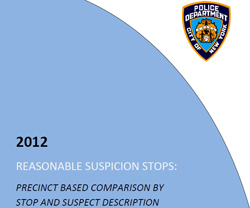 2012 Reasonable Suspicion Stops Report 
This Report complements the NYPD's twice yearly Crime and Enforcement Report