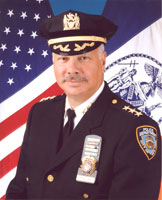 Chief of Transportation Bureau James Tuller, was appointed to the New York City Housing Police Department in November 1973, and began his career on patrol in Police Service Area (PSA) 9. He was promoted to Sergeant in August 1983; Lieutenant in December 1984; Captain in December 1990; Deputy Inspector in May 1992; Deputy Chief in December 1994; and Assistant Chief in July 1999. He has served in Patrol Boroughs Manhattan North, Manhattan South and Queens North, the PSA 9 Project Stabilization Unit, the Housing Police Department Training Unit, Housing Borough Manhattan, and the Housing Police Department's Office of the Chief of Support Services.

Chief of Transportation Tuller most recently served as Commanding Officer of Patrol Borough Manhattan South and has also commanded Patrol Borough Queens North, Housing Borough Manhattan, the Support Services for the Housing Police Department and PSA 5. Additionally, he served as Executive Officer of Patrol Borough Manhattan North and Patrol Borough Manhattan South.

Chief of Transportation Tuller holds a Bachelor of Arts degree in Police Science from John Jay College of Criminal Justice, and a Master in Public Administration degree from Marist College. He is also a graduate of the FBI National Academy and attended the University of Virginia's Division of Education Program in Criminal Justice.