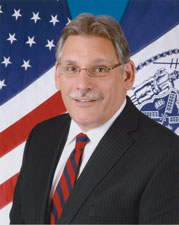 Robert S. Martinez was promoted to Executive Director of the Support Services Bureau in May 2010. He joined the New York City Police Department in June 1986, and was assigned to the Fleet Services Division (FSD) as an Auto Service Worker. Through diligence and educational achievement, he rose through the supervisory ranks until being appointed overall Director of the Fleet Services Division in 2006.
Executive Director Martinez currently commands a Bureau that provides logistical and technical support to all commands within the New York City Police Department and services the public through the operations of Fleet Services Division, Property Clerk Division, Central Records Division and Printing Section. Executive Director Martinez oversees approximately 800 members of the service and an annual operating budget of over $153 million. He has successfully raised the profile of the Support Services Bureau by managing several important Department wide initiatives including:
As Director of Fleet Services Division, Director Martinez embraced new technologies to reduce the Department's carbon footprint while continuing to provide resources necessary to meet the Department's mission. Under his watch, hybrid and electric models in the Department's patrol fleet increased and there was a significant decrease in annual fuel consumption equating to an annual reduction of over 10,000 tons of greenhouse gasses. Global positioning satellite (GPS) systems were implemented into FSD tow trucks and roadside repair trucks to optimize deployment. Director Martinez secured the NYPD's representation on public safety, energy and vehicle committees and proactively addressed vehicle designs through positions on manufacturer's police vehicle design committees. The NYPD earned four consecutive "100 Best Fleets in North America" awards between 2008 and 2011 and was also ranked number 27th for the "Government Green Fleet" in 2009 and 2010. Director Martinez implemented internal leadership programs that led to reductions in vehicle downtime every year since 2006.

Executive Director Martinez earned a Bachelor of Technology degree from New York City Technical College, where he majored in Electro-Mechanical Engineering and earned a Master of Science Degree in Executive Management from the Robert F. Wagner Graduate School of Public Service at New York University. He also attended the Harvard University John F. Kennedy School of Government's Executive Education program in 2011..