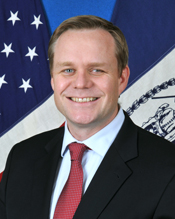 Police Commissioner Raymond W. Kelly appointed John J. McCarthy as the New York City Police Department's Deputy Commissioner for Public Information in August 2013.

"John McCarthy brings experience, judgment and legal training to this important position, having served previously as Assistant Commissioner in DCPI and more recently the Mayor's Office, with responsibility for police, fire and other first responder issues," Commissioner Kelly said. "John is a consummate, thoughtful professional and I welcome him back to the NYPD."

Prior to his appointment, Deputy Commissioner McCarthy served as a senior advisor and spokesman in the Office of Mayor Michael R. Bloomberg. He previously served as Director of Public Affairs at the Port Authority, and handled communications and legal affairs at the MTA and New York State Office of Homeland Security. He began his career in public service as an attorney on the Moreland Commission on New York City Schools, which investigated the old Board of Education. Mr. McCarthy is a graduate of Fordham College and Fordham University School of Law, where he earned his Juris Doctor. He is a native of Queens, where he currently resides with his family.