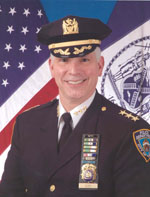 Chief Anthony J. Izzo began his career in the New York City Police Department as a police trainee in 1968.  He was appointed Police Officer on November 1, 1971.  He was promoted to Sergeant in October 1981; to Lieutenant in June 1989; to Captain in July 1994; to Deputy Inspector in March 1998; to Inspector in September 1999; to Deputy Chief in September 2000; to Assistant Chief in June 2002; and to Bureau Chief in January 2006. He has served in the 13, 25, 26, 60, 63, 70, 105, and 114 Precincts, as well as the Applicant Investigation Unit, Highway Patrol, Street Crime Unit, and Patrol Borough Bronx.

Chief Izzo has served as the Commanding Officer of the Narcotics Division, Patrol Borough Bronx, 75th precinct and 115th precinct, and the Roosevelt Avenue Task Force.

Chief Izzo holds a Bachelor of Science degree in criminal justice from John Jay College of Criminal Justice. He is a 1997 graduate of the Police Management Institute of Columbia University.

In April 2007, Chief Izzo was honored in Padula, Italy where he was the recipient of the Lieutenant Joe Petrosino Award.  This prestigious award is conferred each year upon an individual who overwhelmingly demonstrates the essence of the legendary lieutenant's commitment to fighting crime.  Lieutenant Giuseppe "Joe" Petrosino was an NYPD officer who was a pioneer in the fight against organized crime; he was killed in the line of duty in March 1909 and remains the only member of the NYPD to be killed in the line of duty on foreign soil.  The various crime fighting techniques that Lt. Joe Petrosino pioneered during his law enforcement career are still practiced by law enforcement today.

Chief Izzo directs and controls the daily operations of seven divisions and over 2,300 uniform and civilian personnel that comprise the Organized Crime Control Bureau.

The men and women under his command are tasked with investigating traditional organized crime organizations, money launders, asset forfeitures, and those engaged in the illegal trafficking of narcotics, firearms, and under-aged prostitutes.  In addition, his investigators address organized automobile related crime, criminal gang organizations, the pursuit of pedophiles and illegal gambling organizations.

The Organized Crime Control Bureau promotes cooperative efforts between the law enforcement community and the citizens of New York and will work with determination towards protecting and enhancing the quality of life of current and future generations.
$1000 FOR ANONYMOUS INFO LEADING TO THE ARREST OF ANYONE WHO POSSESSES AN ILLEGAL HANDGUN
YOU DON'T HAVE TO LEAVE YOUR NAME...
The N.Y.P.D. has paid more than $1,400,000 since the inception of the Gun Stop Tip Program.