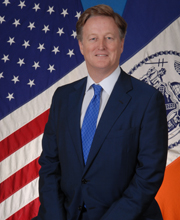 Douglass B. Maynard was appointed the New York City Police Department's Deputy Commissioner for Legal Matters in January 2013. 

A former partner at Akin Gump Strauss Hauer & Feld and co-head of its New York litigation section, Deputy Commissioner Maynard also served as Associate General Counsel at Time Inc., and before that as Assistant United States Attorney for the Southern District of New York.  

As Assistant U.S. Attorney from 1990 to 1996, Mr. Maynard was the federal prosecutor responsible for the investigation and prosecution of a wide range of federal crimes including RICO violations, narcotics trafficking, bank fraud and mail and wire fraud.  He investigated and prosecuted a number of major Russian organized crime cases, then an emerging and international crime problem. Those cases involved murder, extortion, drug trafficking and other crimes in the United States, Europe, and Asia.  As part of that effort, he coordinated with European law enforcement officials to extradite defendants from Italy, Romania, Austria and Denmark.

In private practice he focused on white collar criminal and regulatory defense, and also represented magazine and book publishers and news organizations in libel and other media-related litigation. Before joining the Justice Department, he was an associate at Patterson, Belknap, Webb & Tyler between 1986 and 1990

Deputy Commissioner Maynard is a 1982 graduate of Yale University, and he received his juris doctor from New York University in 1986. In his new post, Deputy Commissioner Maynard will oversee a staff of 150 civilian and uniformed members of the service,  including 75 lawyers. He succeeds S. Andrew Schaffer, who retired.