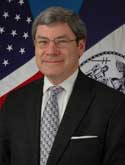 Deputy Commissioner and Labor Counsel David M. Cohen, Esq. joined the New York City Police Department on January 16, 2007, as Assistant Commissioner, Labor Relations, to provide advice and counsel to the Department on issues that affect labor-management relations among the uniformed services and civilian employee unions. Deputy Commissioner Cohen was promoted to his present rank in December 2007, and serves as the Police Commissioner's principal labor and employment law counsel, and assists in collective bargaining and related matters.

Deputy Commissioner Cohen retired in 2006 from Columbia University. At Columbia, he was the architect of major initiatives in employee training programs, disability management, and modernized human resources policies and procedures, and dealt with 14 bargaining units representing the University's non-exempt employees. From 2004 to 2006, he served as the Assistant Vice President for Administration at Columbia University Medical Center. From 1996 to 2004, he was the University's Assistant Vice President for Employee and Labor Relations.

Prior to joining Columbia, Deputy Commissioner Cohen spent eight years as a human resources and labor relations consultant and arbitrator. From 1984 to 1989, he was Labor Counsel to the Director of Labor Relations of the Metropolitan Transportation Authority and Director of Labor Relations of the Long Island Railroad. Prior to 1984, he spent more than seven years in various labor positions with the Federal Government in Washington, D. C., including five years as Chief Hearing Officer of the National Mediation Board, where he assisted in resolving a number of national railroad industry strikes.

Deputy Commissioner Cohen is a graduate of the School of Industrial and Labor Relations at Cornell University, and serves as a member of the Dean's Advisory Committee of the ILR School, and of the University Council. He received his Juris Doctor degree from The National Law Center of The George Washington University, and is a member of the bar of New York and The District of Columbia.