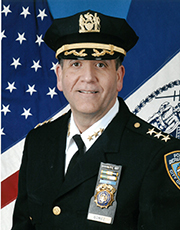 Chief of Housing Bureau Joanne Jaffe entered the New York City Police Department in November 1979, and began her career on patrol in the 75th Precinct. She was promoted to Sergeant in November 1985; Lieutenant in June 1989; Captain in July 1993; Deputy Inspector in December 1994; Inspector in August 1996; Assistant Chief in June 1998; and Chief of Housing Bureau in August 2003. She has served in the 1st, 9th, 13th, 19th, 33rd, 75th, 104th, and 115th Precincts as well as the Queens Narcotics Division, Street Crime Unit, Patrol Borough Bronx, the Detective Bureau, and the Office of Management Analysis and Planning.

Chief Jaffe has served as the Commanding Officer of the Office of Management Analysis and Planning, the 1st, 19th, and 33rd Precincts and Patrol Borough Bronx. She also served as the Executive Officer of the 9th and 13th Precincts, as well as the Detective Bureau.

Chief Jaffe holds a Bachelor of Science degree in Criminal Justice and a Master of Arts Degree in Forensic Psychology from John Jay College. She is a graduate of the F.B.I. National Academy in Quantico, Virginia.