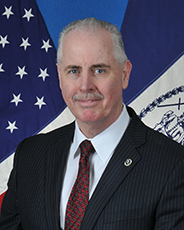 Chief of Detectives Robert K. Boyce joined the New York City Police Department in January 1983, and began his career on patrol in the 24 Precinct. He was promoted to Sergeant in December 1988; Lieutenant in August 1996; Captain in October 1998; Deputy Inspector in May 2001; Inspector in October 2003; Deputy Chief in October 2007; and Assistant Chief in March 2012. He has served in the 24, 40, 67, 73,75 83, 90, and 94 Precincts, the 75 79, and 88 Detective Squads, Patrol Borough Queens North Task Force, the Organized Crime Control Bureau, Manhattan South Narcotics Division, Queens Narcotics Division, the Internal Affairs Bureau and Gang Division.

Chief Boyce has also commanded Detective Borough Bronx and Manhattan, the 40 and 67 Precincts, the 79 and 88 Detective Squads, as well as the Gang Division. Additionally, he served as Executive Officer of the 75 Precinct.

Chief Boyce holds a Bachelor of Science degree in Criminal Justice from the State University of New York and a Master of Public Administration degree from Marist College.