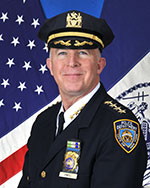 Police Commissioner Raymond W. Kelly appointed Philip Banks III as the NYPD's Chief of Department in March 2013. The 26-year veteran of the force and former Chief of Community Affairs was officially installed as the Department's highest ranking uniformed officer in promotion ceremonies at Police Headquarters.

"Phil Banks has proven himself time and again to be as outstanding a field commander, adept in managing police personnel and operations, as he has a consummate builder of community relations whose robust School Safety and Juvenile Justice Divisions, as well as New-Immigrant Outreach and Crime Prevention programs, flourished under his command." Commissioner Kelly said.

Chief Banks, 50, joined the New York City Police Department in July 1986, and began his career on patrol in the 81st Precinct. He was promoted to Sergeant in March 1994; Lieutenant in May 1997; Captain in September 1999; Deputy Inspector in June 2001; Inspector in December 2003; Deputy Chief in December 2006; and Assistant Chief in June 2009. He has served in the 70th, 73rd, 79th, 81st, 90th and Central Park Precincts, Patrol Borough Brooklyn South, the Harbor Unit, and the School Safety Division Investigations Unit.

Before being appointed Chief of Community Affairs in July 2010, Chief Banks served as Commanding Officer of Patrol Borough Manhattan North and also commanded the 79th, 81st and Central Park precincts. He also served as Executive Officer of Patrol Borough Brooklyn South, and of the 73rd Precinct.

Chief Banks holds a Bachelor of Science degree in Business Administration from Lincoln University and is also a 2001 graduate of the Police Management Institute at Columbia University. He also completed advanced management training for Senior Executives in State and Local Government at Harvard University's John F. Kennedy School of Government and the Executive Leaders Program in Counterterrorism at the Naval Postgraduate School, Center for Homeland Defense and Security.

Chief Banks is the 37th individual to hold the post, which prior to 1973 was known as the Chief of Operations and before that as Chief Inspector.