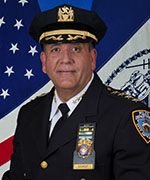 Chief Carlos M. Gomez is the 39th Chief of Department for the New York City Police Department.
Chief Gomez joined the New York City Police Department in July 1984. He first started walking the beat as part of the Neighborhood Stabilization Unit in Upper Manhattan, a unit for officers who recently graduated from the academy to learn proper police tactics. From there, he was transferred to the 103 Precinct in Jamaica, Queens. Chief Gomez was promoted to Sergeant in April 1989; Lieutenant in July 1996; Captain in August 1998; Deputy Inspector in September 2000; Inspector in December 2002; Deputy Chief in February 2007; Assistant Chief in March 2010; Chief of Housing in February 28, 2014; and Chief of Patrol in November 2014.
Throughout his long career, Chief Gomez served in a variety of precincts. This included the 101, 102, 103, 106, and 115 Precincts. He also served in several units throughout the Department including Patrol Borough Queens North, the Applicant Processing Division, Street Crimes Unit, and Management Information Systems.
Additionally, Chief Gomez served as Commanding Officer of the 90 Precinct, 106 Precinct, and Management Information Systems. He served as the Adjutant and Executive Officer of Patrol Borough Queens North, and Commanding Officer of Patrol Borough Bronx from 2010 to 2014. Upon his promotion to Chief of Housing in February 2014, Chief Gomez oversaw the city's 9 Public Service Areas and the safety of approximately 400,000 people residing in 378 public housing developments.
Chief Gomez most recently served as the Chief of Patrol. As the Chief of Patrol, he oversaw the implementation of several city-wide initiatives aimed at reducing crime while strengthening relationships with the community. In this role, Chief Gomez was tasked with overseeing the city's 8 patrol boroughs, 77 precincts, and, until February 2016, the Department's Special Operations Division.
Chief Gomez holds a Bachelor of Arts in Criminal Justice from the State University of New York at Old Westbury. He has been married to his wife, Lisa, for 29 years. They are the proud parents of two daughters, Jenna and Danielle.