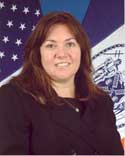 Deputy Commissioner, Department Advocate's Office, Julie L. Schwartz, Esq. joined the New York City Police Department in January 2005. She first began her career in the field of criminal justice in 1989 as an Assistant District Attorney in the Kings County District Attorney's Office. In 1996, she was promoted to Deputy Bureau Chief of the Sex Crimes/Special Victims Unit and later worked in the Domestic Violence Bureau under the same title. In January 2000, Deputy Commissioner Schwartz was promoted to Bureau Chief of the Sex/Crimes Victims Bureau. In her tenure at Kings County District Attorney's Office, she tried over 75 felony trials including several high-profile and precedent-setting cases.
In her three-year tenure with the NYPD Advocate's Office, Deputy Commissioner Schwartz has been committed to the professionalization of the office by overseeing the attorney title reorganization, thereby attracting and employing highly-qualified attorneys from other city agencies, as well as the private sector.  She developed case intake and review procedures that have heightened prosecutorial standards; and participated in Department policy making committees in the area of discipline and its effect on the Department as a whole.
Deputy Commissioner Schwartz earned a Bachelor of Science degree in Business Administration from the State University of New York at Oswego, and a Juris Doctorate from Brooklyn Law School.