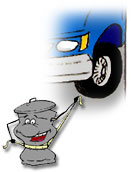 Follow these practices to extend the life of your tires, and to improve the markets for recycled tires:
Train staff in proper driving techniques to reduce premature tire wear.
Maintain proper tire pressure. Use the manufacturer's recommended pressure, not the maximum pressure listed on the side of the tire. To get an accurate reading, check tire pressure when the tires are cold, either first thing in the morning or after the car has been standing for a few hours.
Rotate tires according to the manufacturer's recommendations to ensure that the tires wear at a uniform rate. Check tire balance and alignment to reduce excess wear.
Buy retreaded tires. Retreading bonds new tread to the existing tire body using a process very similar to the manufacture of a new tire. You don't have to pay to dispose of the old tire, and the retread is 30 to 50 percent cheaper than a new tire. Retreaded tires are regulated by the standards set by the National Highway Traffic Safety Administration. For more information, contact the Tire Retread Information Bureau.
ALSO SEE
where to buy retread tires