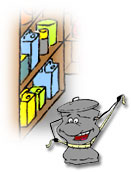 Solvents emit harmful vapors. Very short exposures can cause eye, throat, and upper respiratory irritation; dizziness; blurred vision; nausea; and disorientation.
Like all hazardous products, solvents should be used with care. Alternatives include aqueous-based solutions, citrus-based degreasers, enzymatic cleaners, and other less-caustic substitutes. Use enclosed washing cabinets to contain fumes.
See solvent-reduction tips for the following:


kitchen degreasers


parts washers
Visit reducing toxics and helpful links about reducing toxics to learn more about the toxicity of solvents, their potential health effects, and possible alternatives. Or click on the specific item below:


solvents


graffiti remover


paint thinner


chemical paint stripper


kitchen degreaser
---
Solvent reduction tips for kitchen degreasers:
Clean often and soon after spills occur to avoid grease build-up.
Use a drip pan in ovens to catch spills and overflows.
---
Solvent reduction tips for parts washers:
Talk to your vendor about the option of using less hazardous cleaning solutions, such as water-based detergents or citrus-based degreasers.
Turn off solvent stream and heating element, and cover the unit when not in use. Ensure that employees properly close the parts-washer lid at all times to decrease the evaporation of usable solvent and increase the usable life of the solvent.
Wipe parts with a rag or wire brush before soaking in parts washer.
Use a drip tray to drain cleaned parts and recover solvent.
Make sure solvent is too dirty to use before it is replaced.
Review solvent use to determine whether on-call as opposed to scheduled service may be more appropriate.
Replace solvent-based parts-washing equipment with an aqueous system. Talk to your current vendors or issue a request for information concerning an aqueous parts-cleaning system. Allow staff to perform on-site tests of aqueous parts cleaners prior to purchase. For more information, see products and services for solvent alternatives.
Review service contract to ensure that vendors dispose of used solvent through fuel blending or distillation for reuse.
Consider filtering and reusing solvent rather than simply replacing the solvent. Purchase your own equipment to recycle solvents on-site. For various solvent reuse opportunities, go to the Air Force Center for Environmental Excellence's Model Shops; see helpful links about reducing toxics for more information.