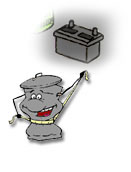 Lead-Acid Batteries


Lead-acid batteries contain lead, a toxic metal, and sulfuric acid, a corrosive liquid. Learn more about the chemical constituents of lead-acid batteries and their potential health effects.
Follow these tips to minimize the negative environmental impacts of lead-acid batteries:
Purchase longer-life lead-acid batteries to reduce the frequency of change-out.
Consider sealed gel-cell batteries as a replacement. They last up to two times longer, do not require the addition of sulfuric acid, and involve less maintenance because no corrosion forms on the terminals.
Establish a safe collection/storage location and direct staff to place all spent batteries only in the designated location. Store batteries indoors or under a roof or other cover to avoid leaking and runoff. Stack batteries on an acid-resistant rack or in a tub, with secondary containment. Keep a neutralizing agent, such as baking soda, nearby in case of leaks or spills. Ventilate storage rooms to protect workers from chemical exposure.
Recycle lead-acid batteries, or return them to the supplier. It is illegal in New York State to discard a used lead-acid battery. If you do not already have a recycling program, establish a one-for-one exchange system with your supplier to take back one used battery for each new battery purchased. Make sure the vendor then sends the batteries for recycling. Contact your Regional New York State Department of Environmental Conservation (DEC) office at (718) 482-4996 for additional information about battery recycling.