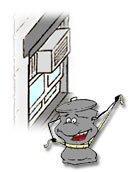 Reduce utility costs, while maintining a confortable temperature within your building, by making your building energy efficient. Cutting back on energy usage also reduces air pollution and the release of carbon dioxide into the atmosphere — a major contributor to global warming.
Energy conservation is part of Mayor Bloomberg's  PlaNYC,

 a strategy to ensure a sustainable future for NYC. PlaNYC calls for a number of actions to reduce energy consumption in City government by 30% within 10 years.
One way to save energy is to cut back on air conditioning and heating use. Maintain air conditioners and heating systems in good condition and use only during the appropriate season. Try to avoid using air conditioners and heaters during peak loads, and never set thermostats lower than 78 degrees Farenheit in the summer or higher than 68 degrees Farenheit in the winter.
These, and other energy savings tips are part of NYC's Department of Citywide Administrative Services (DCAS) Energy Conservation Guidelines.

Further, Local Law 119 of 2005 requires Agencies to meet certain energy efficiency standards when purchasing HVAC systems and other equipment, as well as meet energy efficiency standards on large and small construction projects.
Finally, when it is time to get rid of your mercury thermostat, recycle it through the Thermostat Recycling Corporation. Through this program, businesses can also act as community collection centers for thermostats
For supermarkets and other retail food establishments, refrigeration costs can account for up to 50 percent of utility bills. If you are operating enclosed coolers or refrigerated display cases, consider some of the following performance-enhancing tips:
Follow a regular preventive maintenance schedule for compressors and coolers.
Group foods by temperature requirement, and check the refrigerator case temperature regularly.
Install glass doors on open refrigerator cases to reduce energy costs by as much as 30 percent. Install vinyl strips to prevent cold air loss by up to 75 percent.
Consider installing energy-saving devices if using anti-condensate (or "anti-sweat") heaters in cooler doors or cabinets. Such devices control usage so that heating levels match pre-specified humidity levels.
Install high-efficiency compressors to save 5 to 7 percent on refrigeration bills.
Use floating head pressure in all compressor systems.
Try multiplexing. Mount several compressors on the same rack, using common refrigerant suction and discharge headers, to save 2 to 5 percent on refrigeration bills.
Install split-capacity fan motors for payback in just a few months.
Reduce cooling costs with economizer cycle control. If outdoor air is below a present temperature and humidity limit, the return, exhaust, and outdoor air dampers adjust to use supplemental outdoor air, reducing the compressor load.
ALSO SEE:
improving building energy efficiency
helpful links about energy efficiency