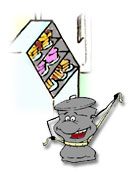 Whether originating from purchasing practices, food preparation, plate leftovers, or human error, food waste is one of the largest components of the waste stream for a restaurant or food-service operation. Take a second look at the types and quantities of food entering your trashcan and follow these steps to reduce food waste:
Take frequent inventories to avoid spoilage and over-purchasing. Follow the first-in, first-out inventory system procedures. Encourage staff to check existing stock to ensure that food is rotated, with the newest items placed at the back of shelves or coolers.
Consider using a computerized inventory tracking system to help better analyze inventory levels and spending while projecting future needs.
Improve purchasing and inventory control by installing order-tracking software to count the number and type of entrees, appetizers, desserts, etc. ordered each day. Such software can be programmed to account for the quantities of ingredients used per dish, providing a total for how much of each ingredient to keep in stock.
Institute a just-in-time delivery system to reduce the potential for disposal of unusable product.
Inspect products when received. Ask staff responsible for receiving deliveries to thoroughly inspect the items, to reduce disposal of unusable produce, meats, and other perishables.
Store food in reusable containers to prevent dehydration, spoilage, and leakage. Many food items are delivered in 1-gallon and 5-gallon plastic tubs that can be reused for this purpose. Transfer food delivered in paperboard, plastic film bags, or cardboard boxes to reusable, resealable containers for storage after initial opening.
Purchase commonly used, shelf-stable products in bulk. For example, instead of purchasing pre-portioned packages of coffee, scoop bulk coffee into filters using a measuring cup.
If appropriate for your establishment, purchase precut and pre-prepared food items to reduce food preparation wastes. When purchasing pre-prepared foods, consider reducing the packaging you will then have to discard as waste. For example, when purchasing salads or coffee, request vacuum-sealed bags instead of hard plastic tubs or coated paper cartons.
Prepare a combination of recipes to use up all of a food product. For example, broccoli stalks left over from cutting florets can be used in soups.
Donate edible leftover food to City Harvest, Food Bank for New York City, or another food bank, shelter, or church group.
Contract with a renderer for collection of cooking grease, fat, and meat trimmings.
Consider composting your food waste. There are a variety of haulers who accept food waste for composting or recycling to transport to a food waste facility.