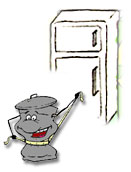 ---
Properly maintaining equipment and appliances will make these items last longer and work more efficiently. Proper maintenance can also reduce energy and water costs, while lessening the likelihood of kitchen disruptions due to equipment or appliance failure.
Try these maintenance suggestions:
Follow manufacturers' recommendations for equipment care and suggested maintenance schedules. Train staff to do the same.
Schedule routine cleaning and maintenance for all refrigeration and HVAC (heating, ventilation, and air conditioning) systems. Clean refrigerator coils and change filters in air conditioners regularly.
Prevent refrigerated air loss. Make sure doors to walk-in and reach-in coolers and freezers close tightly. Install vinyl strips inside of walk-in doorways to prevent cold air loss by up to 75 percent. Find vinyl strip vendors in products and services.
Keep oven equipment calibrated to prevent overcooking.
Extend the life of your fryers and fryer oil by cleaning fryers and filtering oil on a daily basis. Use a test kit to determine when to change your fryer oil. Contract with a rendering vendor to properly dispose of used oil.
Prevent plumbing backups by installing and regularly maintaining a grease interceptor at sinks where grease may be washed down the drain. Commercial establishments in New York City are required by law to properly dispose of grease. For more information, visit helpful links about reducing workplace waste.
Save water by maintaining your equipment.
back to top | back to agency tips | back to business tips


---
A better-quality appliance may cost more initially, but it will perform better, last longer, save money over its lifetime, and prevent waste. When purchasing appliances, take the following steps:
Look for stainless steel construction for durability and recyclability at the end of the product's life.
Purchase energy-efficient models labeled with the ENERGY STAR® logo. For more information see helpful links about energy. Local Law 119 of 2005 requires NYC Agencies purchase appliances that meet certain energy efficiency standards.

ENERGY STAR® refrigerators exceed by at least 10 percent the minimum federal standards for energy consumption. Review the U.S. Department of Energy equipment standards for various refrigerators. (See helpful links about energy for more information.) Energy efficient refrigerators incorporate various features to save energy and keep food fresh. Look for better insulation, more efficient compressors, and more precise temperature and defrost mechanisms that allow for setting adjustments to minimize frost build-up.

When buying a dishwasher, choose an energy-efficient model with the following features: energy-efficient motor, water temperature control, and no-heat drying option. Dishwashers with the ENERGY STAR® label use between one to four gallons less water per load than older models.

See improving building energy efficiency for more information on ways to conserve energy.