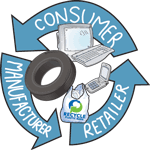 Product Stewardship Strategies


Strategies for implementing product stewardship include:
Take-back programs. At the end of the product's useful life, the manufacturer will take back the specified product, strip it for parts, remanufacture or recycle the remaining materials into new products, and/or properly dispose of any residual materials. These programs have been enacted for a variety of product types. For information on specific companies and their take-back programs, visit take it back nyc.
Trade-in programs. Often times, consumers get rid of products that still have value; especially electronics (consider upgrades, for example). When a product has residual value, consumers may be able to trade it in for cash, credit, or a new product at a participating retailer. For a list of popular trade-in programs for electronics, visit electronics take-back and trade-in programs.
Leasing, or "selling a service rather than a product." Leasing leaves actual ownership of the product with the manufacturer, while customers pay for the use and maintenance of a product. At the end of the product's useful life, the manufacturer is responsible for disposal. Visit leasing tips for more information.
Product design. Products can be designed for easy disassembly, and parts can be designed for durability or recyclability. Go to helpful to learn about the accomplishments of Xerox, Hewlett-Packard, and other companies that incorporate product stewardship into their product design.
Environmentally preferable procurement (EPP) can leverage manufacturers' decisions. Government bodies and businesses that practice EPP can stimulate manufacturers to use recycled-content materials, design for recycling, minimize waste, or create less-toxic products. Visit the green purchasing at work page to learn more.