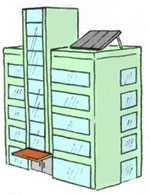 Green Building Characteristics


Principles exemplifying green building design include:

site design and planning


material and product selection


construction and demolition waste management


energy and atmosphere


water management


indoor environment


advertising your accomplishments
---
Site Design and Planning
Site a building within close proximity of commuter rail or bus lines, to reduce pollution and any land-development impacts associated with increased automobile usage.
Establish building specifications that maintain the current level of storm water runoff, or decrease the amount of imperviousness already existing on site.
Develop a site with a minimum density of 60,000 square feet per acre. Channeling development to urban areas with existing infrastructure protects greenfields and preserves natural habitats and resources.
back to top | back to green building
---
Material and Product Selection
Use building materials and products that contain post-consumer recycled content.
Support the regional economy by using materials and products manufactured regionally.
Encourage environmentally responsible forestry through the use of wood or wood-based material that meets Forest Stewardship Council's Principles and Criteria for wood building components.
Utilize rapidly renewable materials, such as bamboo flooring, wool carpets, strawboard, cotton batt insulation (made from denim scrap), genuine linoleum flooring, or poplar oriented-strand board (OSB). Using rapid renewables helps reduce the use and depletion of finite raw materials.
back to top | back to green building
---
Construction and Demolition Waste Management
Develop and implement a waste management plan that diverts a substantial amount of construction, demolition, and land-clearing debris from landfills to recycling or salvage facilities. Options are available to either sort construction and demolition debris on site into various commodities such as asphalt, brick, concrete, wood, and metal or to collect all debris together and have the recyclable materials separated off site. It is important to determine the best option to efficiently utilize space, minimize truck traffic, and control costs.
Utilize various take back programs to recycle various deconstruction materials such as roofing shingles and carpets at no cost.
Follow all regulations to avoid the release of asbestos into the air.
Reuse a percentage of salvage or refurbished materials from construction, demolition, or land clearing as new building material. For more information on the benefits of salvaging materials from existing sites, go to deconstruction.
back to top | back to green building
---
Energy and Atmosphere
Generate building electricity on site, from renewable resources like geothermal, solar, or biogas sources.
Eliminate the use of CFCs (chlorofluorocarbons) in new heating, ventilation, air-conditioning, and refrigeration (HVAC & R) systems. Eliminating the use of CFCs reduces ozone depletion.
Contract with a green power provider to purchase building electricity generated from renewable resources, such as solar, wind, geothermal, biomass, or low-impact hydro sources. For information on providers in New York State, see ConEdision Solutions in helpful links about green building.
Optimize energy performance to exceed the American Society of Heating, Refrigerating, and Air-Conditioning Engineers and the Illuminating Engineering Society of North America's (ASHRAE/IESNA) 90.1-1999 standard.
back to top | back to green building
---
Water Management
Install water-efficient or low-flow equipment and appliances in kitchens and bathrooms to reduce water consumption.
Use water-efficient irrigation, captured rain, or site-recycled water for onsite landscaping.
Utilize innovative wastewater technologies, such as treating waste water on site or significantly decreasing the amount of potable water used for sewage conveyance.
back to top | back to green building
---
Indoor Environment
Design the HVAC system and building envelope to provide for the most optimal delivery and mixing of fresh air. Effective air exchange supports the safety, comfort, and well-being of building occupants.
Reduce the number of indoor air contaminants by selecting paints and coatings, adhesives, carpets, and composite woods that emit low VOCs (volatile organic compounds) or none at all.
Establish segregated areas for chemical-using operations (such as copy/printing rooms and housekeeping); these areas should have separate outside exhaust and no air recirculation.
Maximize day lighting and view opportunities. Day lighting and increased view opportunities can save energy costs and enhance worker productivity.