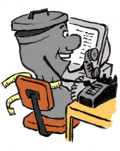 Electronic Internal Telephone Directories Instead of Printed Ones at a City Agency


Replacing printed internal telephone directories with electronic versions helps prevent waste by eliminating the annual disposal of out-of-date books. Switching to electronic directories also eliminates the costs associated with printing or photocopying the printed versions.
Electronic directories can be updated as needed and are simple to maintain on an internal network, or integrate into a website. The time required to maintain the data electronically is no different than the time required to organize the information for printing.
INSTRUCTIONS FOR USING THE MEASUREMENT TOOL
Use the worksheet below to calculate the waste prevention benefits of eliminating printed in-house telephone directories in favor of electronic versions.
The fields highlighted in YELLOW represent the variables that you need to enter for your City Agency. The GREY worksheet field contains default assumptions for calculation purposes; you can change these if the information is different for your Agency.
After completing the worksheet, click on "Calculate the savings!" to see the cost savings of switching to online in-house telephone directories. (Note: If you make subsequent changes to the worksheet, click on "Calculate the savings!" again to recalculate.)