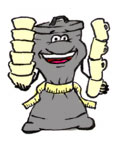 Switching to Reusable Cups and Bowls at a City Agency Cafeteria


Replacing disposable cups and bowls with reusable ones in your employee cafeteria can improve waste prevention efforts and lower your Agency's procurement costs.
Changing to reusable serviceware requires washing stations, and possibly the purchase of an industrial dishwasher and some increased labor costs. However, the cost savings associated with this changeover may make these investments worth considering.
INSTRUCTIONS FOR USING THE MEASUREMENT TOOL
Use the worksheet below to calculate the waste prevention benefits and savings of replacing disposable cups and bowls with reusable ones.
The fields highlighted in YELLOW represent the variables that you need to enter for your City Agency. The GREY worksheet field contains default assumptions for calculation purposes; you can change these if the information is different for your Agency.
After completing the worksheet, click on "Calculate the savings!" to see the cost savings of switching to reusable cups and bowls. (Note: If you make subsequent changes to the worksheet, click on "Calculate the savings!" again to recalculate.)