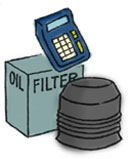 Switching from Conventional to Reusable Oil Filters


Replacing conventional oil filters with reusable oil filters reduces purchasing costs while virtually eliminating the costs to handle and recycle conventional filters. Reusable filters are comparable in quality to traditional oil filters, and most last the life of the vehicle. They contain a removable wire cloth filter that can be cleaned in a parts washer. Cleaning is normally performed when the oil is changed.
Switching to reusable filters will require an initial capital outlay and may increase the frequency of solvent changes for your parts washer.
Instructions for Using the Measurement Tool
The worksheet below is a simple cost-comparison tool where you can plug in your business's costs and variables to determine whether replacing conventional oil filters with reusable oil filters will save you money. The current costs and variables presented in the worksheet represent default assumptions for calculation purposes only. If the information varies for your business, simply enter the correct information in the appropriate field.
After completing the worksheet, click on "Calculate the savings!" to see the cost savings of switching to reusable oil filters. (Note: If you make subsequent changes to the worksheet, click on "Calculate the savings!" again to recalculate.)