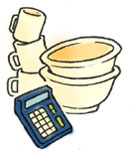 Switching to Reusable Cups and Bowls at a Business Cafeteria


Replacing disposable cups and bowls with reusable ones in your employee cafeteria can reduce your company's purchasing costs and waste removal costs.
Changing to reusable serviceware requires the purchase of dishware, and (if not already in place) an industrial dishwasher and washing stations. Additional labor costs may also be incurred. The longterm cost savings associated with this changeover, however, may make these investments worth considering.
Instructions for Using the Measurement Tool

The worksheet below is a simple cost-comparison tool where you can plug in your business's costs and variables to determine whether replacing disposable cups and bowls with reusable serviceware will save you money. The current costs and variables presented in the worksheet represent default assumptions for calculation purposes only. If the information varies for your business, simply enter the correct information in the appropriate field.
After completing the worksheet, click on "Calculate the savings!" to see the cost savings of switching to reusable cups and bowls. (Note: If you make subsequent changes to the worksheet, click on "Calculate the savings!" again to recalculate.)