Advertise Your Accomplishments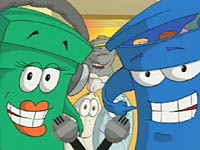 If your company has successfully prevented waste in the workplace, let your customers, employees, and us know about it. How your company is run is of interest not only to investors, but also to a growing number of current and potential environmentally aware customers.
Examples of how to actively promote your business's environmental or waste reduction accomplishments include:
Press releases, statements in annual reports, and in-house signs and literature for customers and employees. Examples of initiatives to publicize include: recycling or product stewardship campaigns; environmentally preferable purchasing policies, creating safer or "greener" workplaces; incorporating "green building" methods during renovation or construction, supporting local environmental programs; and using alternative or renewable energy sources.
Practice what you preach by recycling. Make sure all recycling containers are properly labeled and visible, and follow up with maintenance staff to ensure that items designated for recycling are actually being recycled. Besides setting an environmentally responsible example for your customers and employees, recycling can reduce your solid waste costs, and even generate revenue.
Advertise recycled content. Recycling has become an everyday activity for most people in the United States. In an effort to support recycling markets, many consumers have taken an interest in purchasing items made from recycled content. Government agencies across the country have also been mandated to purchase items with recycled content when using specific funds, or when purchasing certain types of products. Letting people know that you are working to "close the loop" through the manufacture or purchase of recycled-content products can enhance your organization's image and expand your customer base.
Receive recognition for your waste reduction and pollution prevention efforts. Contact the NYC Department of Sanitation Bureau of Waste Prevention, Reuse and Recycling, and also apply for awards and certifications such as the NYS Department of Environmental Conservation's Environmental Excellence Awards and the USEPA's WasteWise program.