With more than one million students, teachers, and administrators, New York City schools produce hundreds of thousands of tons of solid waste every year. There are many ways to reduce the amount of waste generated at your school. Think about how you, your friends, and family can help your school to help the environment.
Follow these tips to reduce and reuse at school:


reduce waste at lunch


reduce paper waste


schedule an exchange or rummage sale


compost at school


conduct a waste audit


give and get donations


find more RRR ideas
ALSO SEE:
info for schools
waste prevention and nyc's carbon footprint


---

One NYC school that participated in an NYC Department of Sanitation waste prevention assessment found that they generated half a pound of food waste per person every day!
Pack a waste-free lunch:
Use a lunch box or reusable lunch bag.
Pack your sandwich or salad in a reusable container.
Pour your drink into a reusable thermos. Buying beverages in larger containers saves money, too!
Avoid pre-assembled lunch kits with excess packaging.
Bring your own reusable utensils and a cloth napkin that can be washed and used again.
Try to pack only as much food as you will really eat.

If you buy lunch in the school cafeteria:
Take only what you need so you don't end up throwing away food or extra condiments.
Don't take (and discard) a lunch tray if you're just carrying wrapped items to your table.
Encourage your friends to reduce lunchroom waste as well.
Don't forget to recycle your milk or juice cartons, bottles, cans, rigid plastic, and foil.

To learn more about creating less waste at lunch, visit Waste-Free Lunches.

---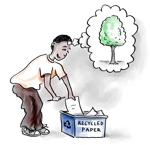 Reduce Paper Waste

In one NYC school, the paper discarded during the school year added up to 28 pounds for each student, teacher, and staff member.
Create a paper reuse center in your classroom. Set up a box (cereal boxes work well) where everyone can put paper that has only been used on one side. Reuse this paper for calculations or drafts, or use it to make pads for taking notes.
Encourage other classes and the school offices to start paper reuse centers, too.
Ask your teachers if you can hand in homework on the back of used paper, such as notices from school or old letterhead.
If you work on a computer, spellcheck your work on the screen before printing it out, and print double-sided.
Find out from your teacher if you can e-mail your homework.
Talk to your teacher and office staff about always making double-sided copies for handouts.

Ask the PTA and office to print newsletters in columns on legal paper. For short notices, print two per page and cut sheets in half.
Don't forget to recycle used paper and paper products, like cardboard packaging and boxes.
---

Schedule an Exchange or Rummage Sale

Wouldn't you like an opportunity to trade books, CDs, videos, or computer games with your fellow students? Why not schedule an exchange or second-hand swap so that the things you've outgrown or no longer want — like sporting goods, books, or clothes — can be used by someone else?
Maybe you can get your school's Parent Association or environmental club to help coordinate the event. By reusing these items, you'll reduce waste, get new-for-you stuff, and have fun. If your event produces a profit, you can use the money for a school trip to the Botanical Garden or a special environmental project.
Arrange to donate leftovers in good condition to organizations such as Goodwill Industries or local charities. Visit NYC Stuff Exchange 

to find where to donate stuff in your neighborhood.
---

 Compost at School

You can recycle food scraps from school lunches and other organic material, like leaves or plant clippings, into nutrient-rich compost.
Talk with your science teacher about starting a worm compost bin or outdoor compost system.
Composting gives you the chance to study the food chain, watch decomposition at work, and track the amount of waste you've prevented. Then you can use the compost to improve the soil on your school grounds or to grow plants in the classroom.
Setting up a worm bin is easy. All you need is a plastic box, damp newspaper strips, some food waste, and common red worms. The worms are shy. They like to work in a dark, warm, moist, well-ventilated container.
Outside, a compost bin or pile can be set up in your schoolyard or garden. Get out of the classroom for hands-on learning projects such as measuring the temperature of the compost, and examining the compost to find different types of insects and worms that act as decomposers.
See how to compost for more ideas and resources.
We offer teacher "wormshops", classroom workshops, and field trips to compost demonstration sites through the NYC Compost Project.
---

Conduct a Waste Audit

Wonder how much waste your classroom, grade, or school actually produces in a week?
Work with your teachers and custodians to plan a school waste audit. At the end of each school day, weigh the waste in each classroom and office.
How much of the waste is composed of reusable paper or items that can be placed in a recycling bin? Ask the custodians to weigh the waste from the cafeteria. How much is food? Are all the milk cartons and juice boxes being recycled? What about foil?
Use the results to plan a waste reduction campaign for your school.
To compare your class with the rest of NYC, see what's in NYC's waste, especially the pie charts and the Results Highlights.
---

Donate and Get Donated Stuff
Donate unwanted school equipment and supplies: NYC Department of Education schools must follow required procedures for reuse or disposal of certain items. See relinquishment information for schools to learn how to donate, reuse, recycle, or dispose of books, equipment, furnishings, or other school property.
Organize a donation drive: Your school or club can help reduce waste and raise awareness by collecting needed goods from parents and the local community. Check with the organization first to find out their wish list. See how to donate your stuff, including what NOT to collect.
Get donated goods: Public school teachers and principals are encouraged to contact our list of organizations and reuse programs to get donated goods including new and used computers, art materials, furniture, and other supplies.
---
The NYC Teachers' RRResource Guide offers in-depth lesson plans and activities focusing on NYC's waste, waste prevention, and recycling.
Check out helpful links for teachers and kids to find useful information on other websites.
Recycling is mandatory for schools in NYC — see information about recycling in schools.
Enter the TrashMasters! Reduce & Reuse Challenge which honors schools with cash prizes for implementing successful waste prevention practices. See previous Golden Apple Awards entries.