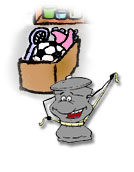 Is your hall closet or storage area packed full of sporting and exercise equipment that you or your kids just don't use anymore?
Think about swapping soccer cleats or football helmets with your neighbors or team members. Donate unwanted items to your local Little League or other organized children's sports organizations, or local charities. You may be able to sell that bicycle through a bicycle shop, the classifieds, or at a stoop sale.
---
Invest in quality products that will give good service and won't require regular replacement.
Repair that bicycle or restring your old tennis racket and you may find that they'll provide many additional years of service.
---
Set up an equipment exchange for your child's team or league.
Swap with friends and neighbors. Everyone has equipment that they no longer use, from tennis balls and Frisbees to ballet shoes and treadmills. Your neighbor's kids might fit into those roller skates your kids can't wear anymore.
Visit nyc stuff exchange 

 for places to donate, give away, sell, or purchase used goods.
---
Recycle broken bicycle pumps, putters, exercise machines, and other metal or plastic sports equipment that you cannot repair or donate. NYC residents are required to recycle any item that is 50 percent or more metal or rigid plastic.
For vendors who will accept sporting goods for recycling visit products and services.
back to top | back to tips at home
---
Go to:
  Tips for your home
  basement/storage | bedroom | car | kitchen | living room | yard

  Tips while shopping 
  appliances | dry cleaner | hardware | grocery store | deli