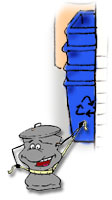 Recycling is an important first step in managing waste materials generated by NYC residents. The next step, buying products manufactured using recycled material, is critical to sustaining NYC's recycling program. When you buy products manufactured from recycled material, you help "close the recycling loop." Buying products manufactured from "post-consumer" recycled materials — those collected from residential and commercial recycling programs — strengthens the markets for the City's recyclables. In addition, making products from recycled materials saves resources, energy, and water.
Today's recycled products offer excellent quality, and are available at a competitive price. You may be surprised at the variety of recycled products available. While most consumers are familiar with recycled-content paper products (printing and writing paper, paper towels, and toilet tissue), a variety of other recycled-content items exist, including trash bags, notebooks, carpet, garden hoses, clothing, furniture, and motor oil.
Ask your local stores to sell recycled products. When you shop, read the label to determine whether the product or packaging contains recycled content. Look for products made with the highest percentage of post-consumer recycled content.
To learn about NYC Government, EPA, and other guidelines for recycled content products see the buy recycled page.
ALSO SEE:
helpful links about purchasing 
products and services