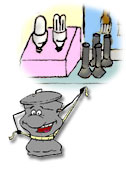 Lighting



fluorescent and compact fluorescent bulbs


flashlights


lighting timers and motion sensors
---
Fluorescent and Compact Fluorescent Bulbs (CFLs)

why use CFLs and fluorescent tubes?


what about mercury?


how do I handle and dispose of bulbs?


what do I do if a bulb breaks?
ALSO SEE:
helpful links
WHY USE FLUORESCENT BULBS AND CFLs?
Replacing incandescent bulbs with CFLs reduces energy costs and waste. CFLs use 75 percent less energy and last 10 times longer than incandescent bulbs. Using CFLs can save you some money in the long term while reducing the number of light bulbs you throw in the trash.
Most hardware stores carry a variety of energy efficient, compact fluorescents in shapes designed to fit fixtures both in and outside your home. While the initial purchase price of a compact fluorescent is higher, it lasts about ten times longer than an incandescent bulb and uses less electricity.
CFLs are safe to use. There is a miniscule amount of mercury in CFLs, this mercury is needed to allow the bulb to be an efficient light source. When bulbs are in tact or in use mercury is not released. It is only released if a bulb is mistakenly broken.
CFLs are one of many common household products that contain traces of mercury. While CFLs do contain 5 milligrams of mercury on average, this is miniscule compared to other common household products. In comparison, the average mercury thermometer contains 500 milligrams of mercury and mercury thermostats contain 3,000 milligrams of mercury. Four and eight foot fluorescent tubes contain an average of 10-15 milligrams of mercury. The number one source of mercury emissions in the US is from coal-burning power plants. Using CFLs will reduce these emissions because using them requires less energy usage.
HOW DO I HANDLE AND DISPOSE OF FLUORESCENT BULBS AND CFLs?
Residents - All lamps are made of glass and should therefore be handled carefully to avoid breakage. CFLs and fluorescent tubes contain minimal amounts of mercury but are safe to use. If you break a bulb, follow these instructions. 
CFLs (not fluorescent tubes) can  be dropped off for free recycling at any Home Depot, IKEA, Lowes, or other participating retailers. 
Alternatively, CFLs and other fluorescents can be brought to any of NYC Department of Sanitation's Household Special Waste Drop-Off Sites or upcoming SAFE disposal events.
Double bag before discarding to prevent injury to Sanitation workers, if you choose to dispose of bulbs with your regular trash.
Commercial generators cannot dispose of their flourescent lighting in the regular trash. 
Agencies, schools, businesses, and institutions are required by New York State law to recycle their fluorescent bulbs. Visit products and services for a list of fluorescent bulb recyclers.
WHAT DO I DO IF A FLUORESCENT BULB OR CFL BREAKS?
If you break a bulb, follow the Environmental Protection Agency's (EPA) guidelines 

 to ensure your safety.
back to top | back to shopping tips
---
Nothing is more important than a flashlight during a power outage or when you have car trouble at night.
A number of manufacturers sell high beam flashlights powered by rechargeable batteries. Prevent waste by eliminating single-use batteries.
You can also use innovative products that run on solar, magnetic, or human power. See products and services for examples of innovative alternatives to batteries.
back to top | back to shopping tips
---
Lighting Timers and Motion Sensors
Installing timers or motion sensors can eliminate waste and save you money. Placing these items in specific rooms or closets, basements, and outdoor areas ensures that the lighting is available when you need it, and that lights will be turned off if you accidentally leave them on. Outdoor motion sensors also are helpful if you come home after dark and need light to find the keyhole.
Time-based controls are the least expensive. Check them out at your favorite hardware store.
back to top | back to shopping tips
---
Go to:
  Tips for your home
  basement/storage | bedroom | car | kitchen | living room | yard

  Tips while shopping 
  appliances | dry cleaner | hardware | grocery store | deli