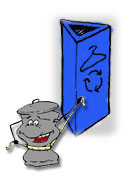 NYC residents discard more than 65 million hangers every year.
Many dry cleaners are glad to accept metal hangers for reuse, and some have special containers for hanger drop-off.  Of the approximately 75 million hangers used by dry cleaners each year, up to 10 percent are returned to dry cleaners.
If you do not bring wire hangers back to your dry cleaner, make sure to recycle them in your blue-labeled bin, along with other metal, glass, plastic & cartons.