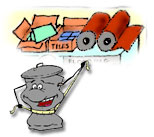 Shopping for Floor Coverings



adhesives


carpeting


floor coverings
---
Select floor covering adhesives that are solvent free. Adhesives used in hospitals and public office space are required to be free of harmful solvents and non-flammable. New Yorkers can make the same choice for their homes by selecting specially formulated adhesives that have been designed for many types of floor coverings.
---
Many carpet manufacturers now make carpeting from recycled material. PET — polyethylene terephthalate — bottles are sorted, ground into fine chips, and then cleaned. The chips are melted, extruded into fiber, and spun into carpet yarn.
Recycled carpet resists soil and stains. Since PET is naturally resistant to stains, this resistance cannot be worn or washed out. Recycled carpet is engineered to last for years.
Check for carpet manufacturers or retailers with take-back programs. Some carpet manufacturers take responsibility for their carpets throughout the product's lifecycle.
---
If you're looking for linoleum or tiles, consider buying floor covering that is manufactured from recycled materials. Floor covering made from recycled rubber and plastic can be installed in recreation rooms.
back to top |  back to shopping tips