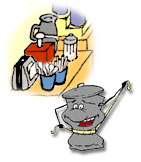 Many New Yorkers love the convenience of having food delivered or stopping at a take-out restaurant to pick up dinner. Here are some tips to reduce the "extras" associated with take-out food:
Say "no, thanks" to the "extras" (paper napkins, plastic cutlery, straws, condiment packets, etc.) often provided with take-out meals. The restaurant owner will save money, and you'll have less waste to manage.
Say "no bag, thanks" if you don't need a bag for your morning coffee. Better yet, bring your own mug, and you won't spill your coffee, need a bag, or even a cup.
If you have "extras," use them in lunches you take to work or school, or save them for your next picnic or road trip.
Remember to recycle paper, metal, glass, plastic & cartons, including paper bags, unused paper plates, plastic cutlery, and aluminum foil. Plastic bags can be also be recycled at retailers throughout NYC.
back to top |  back to shopping tips
---
Go to:
  Tips for your home
  basement/storage | bedroom | car | kitchen | living room | yard

  Tips while shopping 
  appliances | dry cleaner | hardware | grocery store | deli