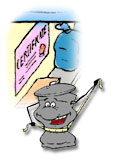 Choosing a Dry Cleaner


There are many New York City dry cleaners who use alternatives to perchloroethylene and/or promote the recycling and reuse of hangers and plastic dry-cleaning bags. 
Talk to your dry cleaner about their cleaning and recycling practices. Ask your dry cleaner what options are available to you to clean your particular mix of items. Also, some advise that the best alternative is to avoid buying clothing marked "dry clean only."
To find out more about waste-prevention opportunities for dry cleaners and alternatives to dry cleaning, visit helpful links.
For a list of dry cleaners who use alternative dry cleaning systems, visit products and services.
back to top | back to shopping tips
---
Go to:
  Tips for your home
  basement/storage | bedroom | car | kitchen | living room | yard

  Tips while shopping 
  appliances | dry cleaner | hardware | grocery store | deli