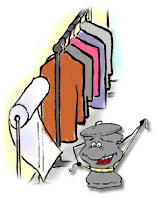 Dry-Cleaning Bags


New Yorkers discard more than 45 million plastic dry cleaning bags every year.
While plastic dry-cleaning bags are not collected through NYC's recycling program, some dry cleaners will accept them for recycling by private recyclers.
You may also be able to bring your dry-cleaning bags to a store that provides plastic carryout bags, so that they can be recycled. Visit plastic bag recycling for more information.
Using reusable garment bags to transport dry cleaning will reduce the number of plastic dry-cleaning bags discarded each year. These bags often are designed with a large pocket that can be used to separate soiled clothes from clean clothing. Ask your dry cleaner if they sell reusable garment bags, or use one that you already have at home.
back to top | back to shopping tips
---
Go to:
  Tips for your home
  basement/storage | bedroom | car | kitchen | living room | yard

  Tips while shopping 
  appliances | dry cleaner | hardware | grocery store | deli