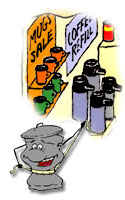 Bring Your Own Container


Use your own drink container for your coffee, tea, water, soup, and other drinks instead of using disposable cups or bowls. Replacing disposable cups with your own reusable mug or thermos might seem like an insignificant act, but consider the amount of waste that could be eliminated if thousands or millions of fellow New Yorkers did the same. A good reusable mugs can also help you from spilling your drink. Many coffee shops also provide a discount to those who bring their own mug.
Bring your own bag when purchasing groceries or other items. Studies have shown that when you use a reusable bag just a few times, it has a significantly lower impact on the environment. Don't forget to say "No Bag Thanks" when you brought your own bag, or when you don't need a bag. You can also recycle the plastic bags you do use at many retailers in NYC.
Bring your own "doggie bag." When you know you will have leftovers after a restaurant, give the wait staff your own container before you ask to take home your leftovers.
ALSO SEE:
durable items
reducing extras
back to top |  back to shopping tips
---
Go to:
  Tips for your home
  basement/storage | bedroom | car | kitchen | living room | yard

  Tips while shopping 
  appliances | dry cleaner | hardware | grocery store | deli