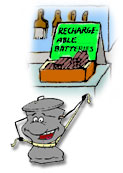 With the exception of rechargeable and lithium batteries (commonly used for portable equipment), most batteries pose little risk to the environment if thrown in the trash. Standard household alkaline batteries no longer contain mercury.

purchasing tips

rechargeable batteries

alternatives to batteries

battery disposal
ALSO SEE:

auto batteries
harmful products handling tips
---
Eliminate batteries altogether. Before purchasing appliances, toys, tools, or other equipment that requires batteries, talk to the salesperson to find out if you can also purchase a plug-in A/C adapter, to eliminate the need for batteries altogether.
Try rechargeable batteries. If you cannot replace a battery with a plug-in A/C adapter, perhaps you can select a rechargeable model with built-in batteries and a recharging station. Or invest in individual rechargeable batteries and a recharger. Rechargeable batteries can be used many times before disposal, saving you money and reducing the number of batteries that end up in landfills. Be sure to purchase batteries that are appropriate for the equipment you are using. By following charging instructions, you can increase the life of your batteries.
back to top | back to shopping tips
---
Rechargeable Batteries
Built-in or removable rechargeable batteries are used to power a number of small appliances and electronic equipment. Rechargeable alkaline batteries can be recharged up to 25 times, nickel cadmium (Ni-Cd) and nickel metal hydride (NiMH) batteries up to 1,000 times, and lithium ion (Li-ion) up to 300 times before they no longer hold a charge.
Rechargeable batteries may contain mercury, cadmium, lead and other heavy metals which can be dangerous if not disposed of properly.
back to top | back to shopping tips
---
Solar and human powered small appliances, electronics, and battery chargers are available, including calculators, lanterns, flashlights, and emergency lighting. A built-in solar panel eliminates the need for batteries, or the need to recharge batteries through an outlet, although sometimes these devices also contain batteries for use in low-light situations.
Other innovative alternatives use your own human energy to generate electricity and charge batteries through hand cranks, pumps, or pedals. See products and services for solar or human powered appliances and generators.
back to top | back to shopping tips
---
Battery Disposal
In the 1990s, the U.S. Environmental Protection Agency identified batteries as the largest source of mercury in municipal solid waste streams. If not properly handled, mercury exposure can be hazardous to human health and the environment. As the result of legislation and public pressure, the battery industry has removed mercury from virtually all household batteries.
Bring rechargeable batteries to any store that sells them, such as a pharmacy, office supply, or hardware store. Rechargeable batteries may contain mercury, cadmium, lead and other heavy metals which can be dangerous if not disposed of properly. NY State's Rechargeable Battery law makes it illegal for anyone in New York State to discard rechargeable batteries in the trash. NY State's Rechargeable Battery law also mandates stores that sell rechargeable batteries (or products containing rechargeable batteries) to take back up to ten batteries of the same shape and size as they sell, free of charge. Ask or look for the Call2Recycle box. To prevent the risk of fire, each battery should be individually bagged or the terminals should be taped (boxes in the stores will often have free bags available).
If a retailer refuses to recycle your rechargeable batteries, contact the NY State Department of Environmental Conservation 

 online or call 1-800-TIPP DEC (1-800-847-7332).
Bring used rechargeable and lithium or other household batteries to any NYC Department of Sanitation Household Special Waste Drop-Off Site or upcoming SAFE disposal events. Rechargeable and lithium batteries must be separated from other household batteries. To prevent the risk of fire, please tape the terminals or individually bag each battery.
Alkaline batteries can be discarded in the trash. Standard alkaline batteries are not considered hazardous waste, since they no longer contain mercury. Place batteries with your regular trash, not in your recycling bin.
Ask your retailer to recycle button batteries. Ask jewelry stores, watch repair shops, camera stores, and other retailers to recycle your watch, calculator, or other button batteries. Though not required to, many do.
Uninterruptible power supplies (UPS): New York States Rechargeable Battery Law mandates that retailers that sell lead acid batteries take them back free of charge. In addition, Call2Recycle accepts lead acid batteries up to eleven pounds in weight.  Unwanted UPS batteries can also be recycled through one of the manufacturer-sponsored take-back programs or through a recycler. Some charge a processing fee, and some require the purchase of a new battery.
Check out other battery recycling options on our products and services page.
back to top | back to shopping tips
---
Go to:
  Tips for your home
  basement/storage | bedroom | car | kitchen | living room | yard

  Tips while shopping 
  appliances | dry cleaner | hardware | grocery store | deli