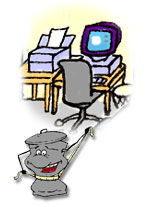 Paper and paper products are probably the biggest waste stream created in your house. Most of the paper you generate can be recycled, but there are ways to reduce paper use in the first place.
When you purchase paper items (writing or computer paper, gift wrap, or greeting cards) remember to look for recycled content.
---
Reduce the amount of junk mail and other unwanted publications you receive, including advertisements, catalogs, credit card applications, donation solicitations and telephone directories you don't want.
Print Double-sided. Many printers now offer double-sided printing. You can even set double-sided (or back-to-back) as the default so you don't have to remember to change the settings each time.
Go electronic. Most banks, credit card companies, utility, and phone companies now offer online billing and statements. Your bills and statements can be e-mailed instead of sent through the mail. When working at home, try to do as much as you can electronically. Ask colleagues to send attached e-mail files instead of faxes. Set up your own system to send and receive faxes on your computer instead of paper faxes.
Use Direct Deposit. Paychecks, social security income, and tax refunds can usually be deposited directly into your bank account through direct deposit. This allows you to receive your payments faster, while saving a trip to the bank. Talk to your employer about direct deposit at work. Talk to your bank or Social Security office, or visit Go Direct 

 to sign up for direct deposit for Social Security payments.
Read magazines and newspapers online. Most of the major papers are now available on the internet. You can also find them at your local library.
back to top | back to tips at home
---
Use both sides. Designate an area to collect one-sided paper, and use it instead of "virgin" paper. Put it into the printer for draft copies. One-sided paper can be used for kids' artwork, shopping and "to do" lists, scrap paper, or even bound or stapled into notepads.
Donate 

 your magazines to interested hospitals, nursing homes, and after-school programs.
Reuse wrapping paper, calendars, paper bags, and the Sunday comics to create your own cards, unique gift wrap, or other craft projects for your kids.
back to top | back to tips at home
---
All NYC residents are required to recycle white and mixed paper.
Designate bins for paper recycling. To make recycling easy and convenient, set up a recycling bin near where you sort mail, pay your bills, or do the most paperwork.
back to top | back to tips at home
---
ALSO SEE:
reducing paper use at work
back to top | back to tips at home
Go to:
  Tips for your home
  basement/storage | bedroom | car | kitchen | living room | yard

  Tips while shopping 
  appliances | dry cleaner | hardware | grocery store | deli