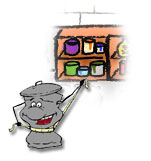 Nothing livens up a room like a new coat of paint. Before you buy paint or paint products (like paint thinner, stains, primer, etc.), consider some options that may help you save money, prevent waste, and reduce your exposure to potentially harmful chemicals.

types of paint


usage recommendations


disposal options 
ALSO SEE: 
helpful links about paint 
harmful products handling tips
reducing workplace toxics 
low-VOC paints in products and services 
---
The sheer variety of paint types and terminology can sometimes be confusing. In terms of waste disposal, there are two important distinctions: latex and oil-based (alkyd). Oil-based paints contain solvents that make it a flammable liquid, as well as resins, solvents, pigments, and additives can be toxic when breathed or touched, and are technically considered a hazardous waste.  
Latex paints (sometimes called acrylic paints) are water-based are not considered a hazardous waste because they are no loner manufactured with mercury.
If it is not immediately clear which type of paint you are buying, look for clues on the label. Oil-based paints will say "Warning: Flammable" or "Caution: Combustible". Latex paints will usually say somewhere on the label that it can be cleaned using soap and water.
---
Use latex paint, rather than oil-based paint. Latex paint cleans up with just soap and water and does not contain hazardous chemicals. Latex paint that is low in volatile organic compounds (VOCs) is an environmentally preferable option to consider if concerned about indoor odor or air quality.
Select the right amount of paint and paint products for each job. It takes approximately one gallon of paint to cover 350 square feet of smooth surface. Use a paint calculator or talk to your local paint retailer to determine how much paint is needed for your next paint job. Many paint manufacturers also sell sample jars, so you can be sure you like the color before you buy too much paint.
Use less-toxic paint thinners or strippers. Avoid thinners or strippers that contain methylene chloride — a potential cancer-causing agent. Thinners or strippers that are low in volatile organic compounds (VOCs) are also an option.
Consider purchasing recycled paint. Recycled paint is made with paint collected from residents and is available at most hardware and paint stores. It is completely re-manufactured to assure consistent performance.
Use reusable canvas drop cloths. Consider making a one-time purchase of reusable canvas drop cloths, which can be useful for a variety of repair projects. If you opt for plastic, use a heavy duty kind that will last through the project.
Remove lead paint responsibly. Never dry scrape or dry sand to remove paint, especially if your home was built before 1960. Prior to its ban in NYC in 1960, lead paint was commonly used in homes. Dust from peeling lead paint is the most common cause of childhood lead poisoning. Children with lead poisoning can develop health, learning, and behavior problems. Before you repaint, repair, or remodel a home, learn about lead-safe work practices and requirements. For more information on lead paint, see helpful links about reducing toxics.
---
Donate, sell, swap, or give away extra paint to charitable organizations, community groups and businesses, or online through a materials exchange. Visit nyc stuff exchange 

 for more information.
Store leftover paint for future projects: cover the opening with plastic wrap, and make sure the lid fits securely over the plastic. Then store the paint can upside down. This creates a tight seal, and keeps the paint fresh for years to come.
Bring all leftover paint and paint products to any of the upcoming NYC Department of Sanitation SAFE disposal events.
Bring leftover latex paint to any of the NYC Department of Sanitation's household special waste drop-off sites. NYC residents can bring up to five gallons per visit. No oil-based paint accepted.
Contact a hazardous waste vendor to discard your oil-based paint. Although safe to use, oil-based paint is classified as a hazardous waste and should not be disposed of in the regular trash or poured down the drain. Improper disposal can be a threat to the environment and public health.
Dry out paint prior to discarding as trash. Remove lid and use kitty litter, newspaper, or other absorbent material to soak up paint (latex, or oil-based if no other options exist). Small amounts of latex paint can be air dryed. Empty metal and plastic paint cans can be recycled.
In accordance with Local Law 33 of 2010, the NYC Department of Sanitation is working with the paint industry to set up a pilot system for collecting and recycling used latex paint.
back to top | back to tips at home |  back to shopping tips
---
Go to:
  Tips for your home
  basement/storage | bedroom | car | kitchen | living room | yard

  Tips while shopping 
  appliances | dry cleaner | hardware | grocery store | deli