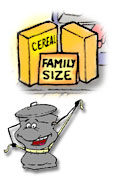 Just about everything you buy comes in packaging. Packaging protects your purchases from damage, dirt, and tampering. It provides information about the product, its ingredients, directions for use, and how to contact the manufacturer.
But packaging is expensive and there's a lot of it. Only about 9 percent of the cost of a box of cereal is for the cereal — the other 91 percent of the cost is for the package and advertising. Packaging makes up one-third of New York City's waste stream (source, pdf). The next time you go shopping, consider some of the tips below.
---
Look for products that have no or minimal packaging. For example, buy the extension cord or deodorant that comes without a box, and select loose fruits, vegetables, and tea. Pay for the product, not the package!
Less is better. Look for single layers and single materials in packaging. For example, choose a plain paperboard box instead of molded plastic with a card.
Buy the largest size that is practical, if you'll use the product and have storage space. The economy size for items such as cereal and yogurt uses less packaging than multiples of the small and singe-serving sizes.
New York City water is safe and healthy. Use tap water instead of buying bottled water. If you are concerned about the tap water in your home, consider purchasing a water filter instead of bottled water. You can permanently install a filter in your sink, or, for less than $10, purchase a reusable pitcher with a water filter. The filter is guaranteed to clean 40 gallons of water, for about 2 months of use. New filters can be purchased for less than $5 each. Some filters can even be recycled through manufacturer take back programs.
Try buying concentrates for items like juice or laundry detergent. This saves packaging and energy during transportation.
Choose products in tubes instead of pumps. Did you know that the packaging for pump toothpastes uses three times as much plastic as a toothpaste tube?
Say "no bag, thanks" whenever you can. If you're buying only a few small items, just put them in your purse, tote, or briefcase. Or bring your own reusable bag. At the dry cleaner, skip the film wrap, or buy a reusable garment bag.
---
Reuse plastic bags. Take them back to the store on your next shopping trip; some markets offer a small rebate per bag to customers who reuse their shopping bags. Reuse plastic grocery bags to line your wastebasket or kitchen garbage can, or for tote bags. Most large or chain retailers are required to sell reusable bags, visit laws and directives for info.
Reuse plastic tubs and glass jars.  So many products come into your home in reusable containers. Thoroughly clean these containers and use them to store leftovers, pack school lunches, or store small toys or supplies.
Clean and refill beverage containers with juice or tap water for school lunches, outings, or car trips.
Reuse boxes, bubble wrap, and other packaging materials you have received, or ask for reusable boxes from local stores. Paper bags make excellent wrapping paper for shipping packages.
Bring your bubble wrap and polystyrene packaging peanuts to a nearby commercial packaging service for reuse. See take it back nyc for more information about shipping packaging take-back programs.  Do not place Styrofoam® peanuts in your recycling bin.
---
Look for recyclable packaging when you shop, and recycle product containers.
Choose packaging made with recycled content. Recycling works when people buy products and packaging made from your metal, glass, plastic, and paper recyclables collected by the NYC Department of Sanitation. Look for labels describing the recycled content.
Bring back your plastic carryout bags to the store, so that they can be recycled. Most large or chain retailers are required to accept plastic bags for recycling, visit laws and directives for info.
Recycle all rigid plastic packaging ("blister-pak" and "clamshell" consumer packaging, acetate boxes) with your metal, glass bottles & jars, and beverage cartons.
Participate in a take-back program for #5 plastics and Brita Filters at participating Whole Foods locations. There are also other options for flexible plastic packaging.
---
ALSO SEE:
grocery store shopping tips
helpful links about packaging
waste prevention reports
back to top | back to tips at home | back to shopping tips 
---
Go to:
  Tips for your home
  basement/storage | bedroom | car | kitchen | living room | yard

  Tips while shopping 
  appliances | dry cleaner | hardware | grocery store | deli