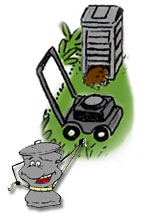 NYC residents discard more than one million tons of organic waste each year. This includes kitchen scraps (fruit and vegetable peels, egg shells, tea bags, coffee grounds and filters, and used paper towels) as well as yard waste (leaves, branches, weeds, and grass clippings). By following the tips below, you can reduce your garbage and eliminate the use of fertilizers, weed killers, and pesticides — and still have healthy, attractive lawns and gardens.
Leave it on the lawn. When you mow your grass, leave clippings on the lawn instead of raking and bagging them. The clippings decompose and provide nitrogen to the soil, so you can reduce or even eliminate fertilizing. Learn more about "grasscycling" and natural lawn care at the composting in nyc.
Learn to compost. Leaves, kitchen scraps, garden trimmings, and weeds can all become "garden gold" through composting. Using rich, soil-conditioning compost on lawns and gardens keeps plants healthy naturally, eliminating the need for fertilizers and pesticides. For all the dirt on composting in NYC, visit the how to compost.
Drop off your food scraps at one of the sites in your community that accepts food waste from residents. Many types of food waste can be composted to create fertile soil. Most community gardens have rules as to which food types are accepted. Check with a site near you for their specific guidelines.
NYC residents and institutions in the city's leaf collection districts are required to recycle their fall leaves by setting them out in paper lawn & leaf bags (or unlined rigid containers) for Sanitation collection during designated time periods. For more info, go to fall leaf collection program.
Hired commercial landscapers are required by law to remove and compost (if possible) any yard waste and other waste that they generate through their activities; it is illegal for commercial operations to set out their waste for Department of Sanitation collection.
Prevent further infestation of the Asian Longhorned Beetle. Residents in Brooklyn, Manhattan, Queens, and parts of Staten Island must arrange for a pickup of tree prunings, firewood, and other woody organic debris by the NYC Parks Department. For more information, contact 311 or visit the Parks Department wood debris removal website 

.
Select appropriate plants. There are many attractive varieties of shrubs and flowers that are resistant to disease and pests. You can also plant grass blends that need less frequent mowing and require less water and fertilizer.
Try alternative products. Many garden centers and catalogs now sell fertilizers, pesticides, and weed controls that are organic or made with safer ingredients.
Garbage disposals are also an alternative to disposing of food waste in your trash. Garbage disposals are simple, electric motorized grinders attached under the counter of a kitchen sink that mince food scraps as they flow down the drain.
Reduce food packaging. When purchasing food, there are many things you can do to reduce the packaging, such as buying in bulk, buying loose products, and buying locally grown foods. Visit Household Food and Product Packaging for tips on reducing your food packaging.
back to top | back to tips at home
---
 Go to:
  Tips for your home
  basement/storage | bedroom | car | kitchen | living room | yard

  Tips while shopping 
  appliances | dry cleaner | hardware | grocery store | deli