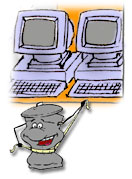 When electronic devices break or become outdated, our first instinct is to throw them away and buy bigger and better new ones. However computers, monitors, and printers have components that contain hazardous materials, such as lead, mercury, and cadmium. Though safe to use, electronic equipment can pose dangers to the environment when not properly discarded. See below for less expensive and more environmentally-friendly options.
---
Repair rather than replace. For a minimal investment, you may be able to fix whatever ails a formerly reliable piece of equipment.
Upgrade what you have, rather than buying new. Instead of purchasing a new computer, for example, consider increasing the memory of the old one, or adding accessories.
Buy a top quality product. It may cost more up front, but it will last much longer and save you money in the long run. Talk with sales staff, read warranties, check purchasing guides, such as Consumer Reports, for the latest information, talk to friends who have purchased similar items, and research brands and models on the web to ensure you are getting the very best product for your investment.
Buy electronics manufactured with fewer hazardous chemicals. Products rated as EPEAT Gold, Silver, or Bronze meet certain product and manufacturer standards. Product qualities include: less harmful materials, more recycled-content, long lasting, energy efficient, reduced packaging, and easily recycled. Manufacturer standards involve environmental tracking systems and take-back programs for discarded items. Products rated Bronze meet minimum standards across all of these categories, while Silver and
Gold exceed the minimum requirements by meeting additional goals.
Look for products labeled with the ENERGY STAR® logo. They will help you reduce energy use and save money on your utility bills. For example, a monitor with an Energy Star label automatically powers down to sleep mode when not in use.
---
Donate working electronic equipment to a charitable organization. Visit nyc stuff exchange 

 to find a local charity, or visit the electronics recycling page for national programs. Keep in mind, many charities won't accept your outdated computers.
Sell working unwanted electronics through an online reuse and materials exchange.
Visit reuse tips for electronics to see more reuse options.
The NYS Electronic Equipment Recycling and Reuse Act requires manufacturers to collect and recycle or reuse unwanted electronics. Covered products include: computers, televisions, monitors, keyboards, mice, scanners, printers, small-scale servers, VCRs, DVRs, DVD players, cable or satellite boxes, digital converter boxes, video game consoles, portable digital music players, and fax machines. Each manufacturer must maintain a toll-free number and website with info on how to return items for recycling. Visit take-back programs to learn about manufacturer-sponsored programs.
Recycle unwanted electronics through drop-off or mail-back programs. Drop-off programs include permanent locations at retailers and thrift stores, as well as periodic community events and NYC Department of Sanitation SAFE disposal events. Mail-back recycling programs allow you to ship products for free or sometimes for a rebate when the product has some reuse value. Manufacturer and retailers often use one of these options to accept their products for recycling. Some programs go above and beyond the minimum collection requirements mandated by law by accepting all brands or even purchasing your equipment if it has value. Visit take-back programs to learn about these programs.
Recycle cell phones. The NYS Wireless Recycling Act requires wireless providers to accept used cell phones for recycling. Visit take-back programs to learn about cell phone take-back programs.
Recycle rechargeable batteries. Rechargeable batteries inside unwanted electronics can be taken to certain NY State retailers for recycling. Other batteries, such as alkaline and button batteries are not required to be recycled. For disposal information about non-rechargeable batteries, visit battery disposal tips.
ALSO SEE:
helpful links about energy efficiency
helpful links about selecting appliances
helpful links about purchasing
harmful products handling tips
back to top | back to tips at home | | back to shopping tips
---
Go to:
  Tips for your home
  basement/storage | bedroom | car | kitchen | living room | yard

  Tips while shopping 
  appliances | dry cleaner | hardware | grocery store | deli