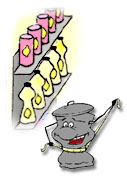 Many household cleaning products contain strong chemicals that can be dangerous if you inhale them, get them on your skin, or combine them with other cleaners. It is important to know what you are buying and to use it safely.

handling tips


alternative cleaning products 
---
Never mix products, especially ammonia and bleach.
Substitute soap, water, and elbow grease for chemicals. In many situations, a little extra scrubbing is all that's required to take care of a stain or a dirty corner.
Consider environmentally preferable cleaners. Read the label before use because even products made with natural ingredients can pose a danger if used inappropriately.
Don't use chemicals to unclog pipes and drains. Use non-chemical drain-cleaning techniques, or call your landlord when a drain backs up. Chemicals used to clear drains can be dangerous to you, and their corrosive components can damage plumbing. Use a drain catch to prevent hair and other clogging materials from entering the pipes. Maintain drains regularly by using a plumber's snake.
Don't forget to recycle. Most cleaning products are sold in recyclable packaging and must be recycled with your metal, glass, plastic & carton recyclables once empty. However, containers marked "DANGER — CORROSIVE" can't be recycled; double bag the empty container and mark it "DANGER — not for recycling." If you have leftover product, use paper towels, litter, or absorbent materials to dry out the container.
Carefully handle cleaning products marked "DANGER — CORROSIVE" such as some drain, toilet, and oven cleaners. Purchase only what you need so you can use up these products completely before discarding the empty container in the trash (not in your recycling bin). Double bag the empty container and mark it "DANGER — not for recycling." If you have leftover product, use paper towels, litter, or absorbent materials to dry out the container.
You can also bring excess cleaners to upcoming NYC Department of Sanitation SAFE disposal events.
Use reusable cleaning tools and supplies. Use a dust mop or reusable dust rag instead of paper towels or disposable dust cloths. Purchase reusable mops with washable mop heads, and just throw the mop head into the laundry when it's dirty. Sponges also can be washed in the laundry or dishwasher several times before being discarded.
Don't just throw old cleaning tools away — find them a new job around the house. A sponge or dishrag that is no longer usable for washing dishes may be great for cleaning bathrooms, cars, or floor.
---
Alternative Household Cleaning Products
No one wants to use potentially harmful products to clean their home, possibly putting family and pets at risk. If soap and water can't do the job, your best bet is to select household cleaning products that contain the least harmful chemicals. Read the labels and look for the signal words — CAUTION, WARNING, DANGER, POISON — that indicate the level of hazard.
Or consider environmentally friendly cleaning products, but remember to read the labels on these products, too. They may have cautions listed.
The following simple non-toxic alternatives are also an option:
Baking soda. Can be used as an all-purpose cleaner when mixed with water. Use especially for scouring sinks and tubs or cleaning plastic toys. Sprinkle over carpet as a deodorizer.
White vinegar. Mix with water, and you have a great window and glass cleaner. Vinegar can be used on porcelain, counter tops, and tile. Add vinegar to the final rinse in your washing machine to eliminate residues.
Salt. Salt can be used as an abrasive in cleaning tough-to-remove food from counters, sinks, and pans or as a drain deodorizer.
Lemon juice. Add to liquid cleaning products for a fresh, clean smell. Use as a bleach in laundry and on kitchen counters.
Cornstarch. Pets in your home? Sprinkle cornstarch on carpet as a deodorizer and vacuum.
Linseed oil. Mix with vinegar for use as a furniture polish. Be sure to test on the underside of any furniture before polishing visible surfaces.
ALSO SEE:
harmful household products 
harmful products handling tips
helpful links about cleaning products
reducing workplace toxics
products and services 
back to top | back to tips at home | back to shopping tips
---
Go to:
  Tips for your home
  basement/storage | bedroom | car | kitchen | living room | yard

  Tips while shopping
  appliances | dry cleaner | hardware | grocery store | deli