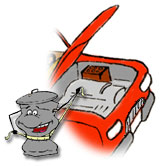 It is illegal in New York State to discard a car battery in the trash or on the street.
A typical auto battery weighs 36 pounds and contains nearly 18 pounds of lead, a toxic metal, and one gallon of sulfuric acid, a corrosive liquid. For information about these toxic materials, visit materials of concern in lead-acid batteries.
ALSO SEE:
household batteries
harmful products handling tips
---
Pay a little more for longer-life lead-acid batteries to reduce the frequency of battery replacement.
Consider sealed gel-cell batteries. The acid is in semi-solid gel form, rather than liquid, so a cracked gel cell does not leak. They last up to two times longer, do not require the addition of sulfuric acid, and involve less maintenance because no corrosion forms on the terminals.
---
Return automotive batteries to any service station or auto supply store that sells them. When you buy a new battery, you pay a $5 surcharge. If you return your "dead" battery when you purchase a new one, you avoid the surcharge. The New York State Department of Environmental Conservation (NYSDEC) is responsible for enforcing this law.
If a service station refuses to accept your auto batteries contact the NY State Department of Environmental Conservation 

 or call 1-800-TIPP DEC (1-800-847-7332).
You can also bring "dead" car batteries to any NYC Department of Sanitation Special Waste Drop-Off Site or upcoming SAFE disposal events. Do not place batteries in your recycling bin.
ALSO SEE:
helpful links about reducing toxics
harmful products handling tips
back to top | back to tips at home
---
Go to:
  Tips for your home
  basement/storage | bedroom | car | kitchen | living room | yard

  Tips while Shopping 
  appliances | dry cleaner | hardware | grocery store | deli