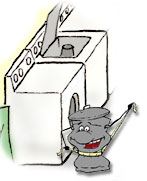 Each year, New York City residents discard about 170,000 large appliances, like washers, dryers, refrigerators, freezers, hot water heaters, and stoves. New Yorkers also discard about 2.2 million small appliances, such as toasters, blenders, hair dryers, food processors, and bread makers, annually. All of these appliances add up to about 64,000 tons of waste every year. A little more than half of the unwanted large appliances are recycled.
Consider the benefits, both in cost and waste reduction, of purchasing appliances that are made well and built to last, keeping them running efficiently, and donating or recycling them when they are no longer wanted. A better quality appliance may cost more initially, but it will perform better, last longer, save money over its lifetime, and prevent waste.
---
When you shop, compare brands and models, and ask about warranties. Chances are the stronger the warranty, the more confidence a company has in the quality of their product. A little research up front will save you money and hassles in the long run.
Check purchasing guides, such as Consumer Reports to learn more about the strengths and weaknesses of an appliance before purchasing it.
When shopping for appliances:
Look for fewer moving parts, buttons, or digital electronic readouts that could break. Simpler is better.
Look for stainless steel construction for durability and recyclability at the end of the product's life.
Check for the ENERGY STAR® label; these products meet strict energy efficiency guidelines set by the US Environmental Protection Agency and the US Department of Energy. For instance, washing machines,  dishwashers and refrigerators with the Energy Star label are more efficient in their usage of energy and resources.
Choose the best size for your needs. As a general rule, the bigger the appliance, the more energy and resources it will need to operate. In addition, for washing machines and dishwashers, ensure that the appliance is fully loaded to amximixe the machine's efficiency and conserve both water and electricity.
Efficient usage of your washing machine includes the following -
A pre-soaking option helps remove stains, allowing clothing to be cleaned using a shorter wash cycle.

An adjustable water level lets you use only the water you need for the amount of clothes you are washing.

Accessory baskets are helpful for washing small loads.

High-speed spin cycles extract more water and help to reduce drying time.
Efficient clothes dryers have the following attributes -
Moisture sensors for sensing dryness that can shut off heat when clothes are dry.

Cool-down period in the last few minutes of the cycle — during the final drying period, cool air is used to complete the drying cycle, saving the energy required to heat the air.

The most efficient dryer available. Clothes dryers are not required to display Energy Guide labels, but the minimum rating for a standard capacity electric dryer is 3.01. For gas dryers, the minimum energy factor is 2.67. These ratings are determined by calculating pounds of clothing per kilowatt-hour of electricity.

Currently, gas dryers are less expensive to operate than electric dryers. According to the US Department of Energy, consumers in the future may be shopping for microwave technology in clothes dryers. Microwave drying technology has the potential to reduce the energy necessary to dry your clothing.
Features which increase the efficiency of your dishwasher includes -
Reduced water use for light loads.

Options to control water temperature. One of the key energy savings in new dishwashers is an internal water heat booster, which heats the water to 140°F. If you have your own water heater, this allows you to turn down its normal setting to 120°F to reduce your hot water heating bill and prevent accidental scalding.

Improved washing action.

No-heat drying option.
Refrigerators are probably the single biggest power consumer in most households. To save energy, look for the following features when buying a new refrigerator -
Top freezer models are more efficient than side-by-side models.

Manual defrost models use half the energy of automatic defrost models.

Precise temperature and defrost mechanisms allow you to adjust settings to minimize frost build-up.

Avoid convenience features that require more energy. Although convenient, automatic ice-makers and through-the-door dispensers increase energy use.
back to top | back to tips at home | back to shopping tips
---
Consider purchasing used appliances. Many places that accept appliances as donations also sell them. Or check out local bulletin boards and exchange listings. Shop for quality, just as you would with a new item. 
Ask about retail recycling programs when purchasing new appliances. Many retailers will remove and reycle your old appliances for little to no cost with the purchase of new appliances.
Donate working appliances to a charitable organization, or to a local group such as a shelter, church, or youth organization, which may accept appliances for their own use or sell them to raise money. Some will pick up items from your home.
Sell your working appliances through a yard sale, the classifieds, or on consignment.
See nyc stuff exchange 

 for places to donate, give away, sell, or purchase used appliances.
Recycle your old appliances with Sanitation. Furniture and appliances that are predominantly metal or plastic can be recycled through regular Sanitation collection. Residents must schedule an appointment 

 online or by calling 311 to pickup items containing Freon or CFC.
back to top | back to tips at home | back to shopping tips
---
ALSO SEE:
helpful links about energy efficiency in appliances 

back to top | back to tips at home | back to shopping tips
---
Go to:
  Tips for your home
  basement/storage | bedroom | car | kitchen | living room | yard

  Tips while shopping 
  appliances | dry cleaner | hardware | grocery store | deli