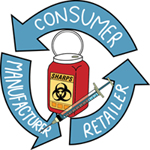 All NY hospitals and nursing homes are required by law to act as collection centers for used household sharps, including syringes and lancelets, with no identification required. Make sure sharps are packaged safely and call hospitals and nursing homes for drop-off times and instructions prior to transporting materials to their facility.
Visit the New York State Department of Health 

or call 1-800-522-5006 for drop off times and instructions. If a hospital or nursing home refuses to take your used sharps, contact the NY State Department of Health at 1-800-522-5006.
ALSO SEE:
hospital and nurshing home requirements 
handling used sharps
sharps products and services 
sharps helpful links