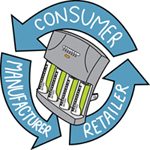 NY State's Rechargeable Battery law makes it illegal to discard rechargeable batteries in the trash (or recycling containers) and mandates stores that sell rechargeable batteries (or products containing rechargeable batteries) to collect rechargeable batteries for recycling, free of charge.
The Call2Recycle program is set up by rechargeable battery manufacturers to facilitate the recycling of these products.
The Call2Recycle program is open to anyone in the United States, including businesses, individuals, communities, organizations, and government. Visit the Call2Recycle program website at: www.call2recycle.org 

 or call (877)-2-RECYCLE for information on how to sign up.

rechargeable battery and cell phone recycling info for agencies


rechargeable battery law info for consumers


rechargeable battery law retailer requirements
Uninterruptable power supply (UPS) batteries over eleven pounds are too large for the Call2Recycle program, but retailers who sell UPS batteries up to 25 pounds are still required to take them back for recycling.
ALSO SEE:
tips on battery-powered devices