NOTE ABOUT NEW YORK STATE'S PLASTIC BAG RECYCLING LAW: On December 13, 2008, Governor Paterson signed New York State's Plastic Bag Reduction, Reuse, and Recycling Act (Assembly Bill A11725/ Senate Bill 8643-A). This law requires larger retail and chain stores to accept clean plastic bags for recycling starting January 2009 and supercedes NYC's plastic bag recycling law. The New York State Legislature is expected to amend the state law to incorporate some of the elements of NYC's law, although there is no timetable on this amendment. Until such amendment occurs, NYC's Plastic Bag Recycling Law is no longer in effect.
---
NYC's Plastic Bag Recycling Law
Effective July 23, 2008, NYC stores that provide plastic carryout bags must accept all plastic bags for recycling - including plastic carryout bags (shopping bags), newspaper bags, and dry cleaning bags - during normal business hours, no purchase necessary (per Local Law 01 of 2008).
Affected retailers must also offer reusable bags for sale and place a recycling message on all plastic carryout bags provided to customers.
Manufacturers are required to assist retailers, upon request, by providing public education materials and making arrangements for the collection of plastic bags.

why plastic bags?


what kinds of stores are required to comply?


how can New York City retailers comply?


what must be accepted?


rules


nys plastic bag reduction, reuse, and recycling act


optional steps
ALSO SEE:
nyc plastic carryout bag recycling law: info for consumers 
take it back nyc
---
Plastic bags are being targeted for recycling since film plastic comprises about 7.5% of New York City's residential waste stream and is mostly comprised of plastic bags. Plastic bags specifically, comprise about 2.87% of New York City's residential waste stream, which is the largest source of plastic in NYC's waste (see what's in nyc's waste).
The system of returning plastic bags to a retail location is preferable to collecting plastic bags as part of the DSNY mixed recycling collection because it ensures the clean stream that is required to effectively recycle plastic bags and film. If bags were mixed together with recyclable food packaging, the organic material contained on those recyclables would contaminate the bags.
---
What kinds of stores are required to comply?
All NYC stores that provide plastic carryout bags and have over 5,000 square feet of retail space, and all chain stores (with 5 or more locations in the city) of any size, must comply with NYC's Plastic Carryout Bag Recycling Law.
Food service establishments (restaurants) are exempt from this law.

back to top
---
How can New York City retailers comply?
| | |
| --- | --- |
| 1.     | Establish a system to recycle plastic bags. Plastic bags may not be collected wih any waste of a putrescible nature. For assistance, visit the Progressive Bag Affiliate's (PBA) plastic bag recycling website  for a step-by-step toolkit. You can also call your plastic bag distributor. |
| 2.     | Set up a clearly marked collection bin in a visible location within the store to accept plastic bags. This bin must be large enough to hold 15 gallons or more and a sign must be posted indicating the bin location if it isn't near the store entrance. For assistance visit PBA's plastic bag recycling website  for free images and signs. |
| 3.      | Accept plastic bags for recycling during normal business hours, no purchase necessary.  |
| 4.       | Sell reusable bags in your store. |
| 5. | All plastic carryout bags given to consumers must state using ½ inch lettering: PLEASE REUSE OR RECYCLE AT A PARTICIPATING STORE. The store may also print a similar message, so long as no lettering is less than a quarter-inch high, and the entire message is at least one-inch high. |
| 6.       | Starting January 2009, keep track of the amount of plastic bags recycled on a yearly basis and report this to the NYC Department of Sanitation. The first report is due February 28, 2010. |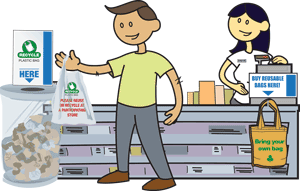 ---
All plastic bags must be accepted for recycling.
In order for plastic bags to be recycled, there can be no contamination. Therefore, the following materials are not acceptable:
Any plastic that has been in contact with food.

The contents of the plastic bags (such as hangers, bottles, receipts, etc.)
Examples of plastic bags include plastic shopping bags, plastic dry cleaning bags, and plastic newspaper delivery bags.
back to top
---
The Department of Sanitation (DSNY) will shortly issue rules outlining the requirements of the law. When finalized, these rules will be available to the public here.
---
In addition to the requirements under this law, retailers can take the following additional steps to save money and reduce waste.


| | |
| --- | --- |
| 1. | Minimize double bagging of plastic bags through staff training. |
| 2.     | Ask customers if they need a bag, or if they would like to use their own.  |
| 3.      | Post educational materials that promote the benefits of using reusable bags. |
| 4.       | Offer incentives (such as discounts) to customers who use their own bags. |
| 5. | Stop providing plastic bags. Retailers that do not provide plastic carryout bags are exempt from the provisions of this law. To inform customers and enforcement officials, post a visible sign indicating this exemption. |
back to top