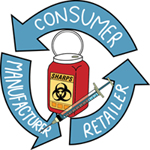 Many CVS Pharmacy, Rite-Aid, and Walgreens (not including Duane Reade) locations offer the Sharps Compliance Inc. medication disposal system, which allows customers to dispose unused or expired medication. Check the travel section or the pharmacy counter to purchase postage-paid envelopes or boxes which provide a low-cost way for customers to mail their unwanted prescription and over-the-counter medications to Sharp Compliance's Texas facility for disposal. Controlled substances 

 are excluded from the program. 
Additionally, the NY State Department of Environmental Conservation's Safe Drug Disposal Options 

 webpage lists periodic drop-off events in and around NYC.
The US Drug Enforcement Agency's National Take Back Initiative 

 website also lists information about prescription drug drop-off events, including controlled substances 

. 
ALSO SEE:
household medical wastes
take-back guidelines for pharmacies